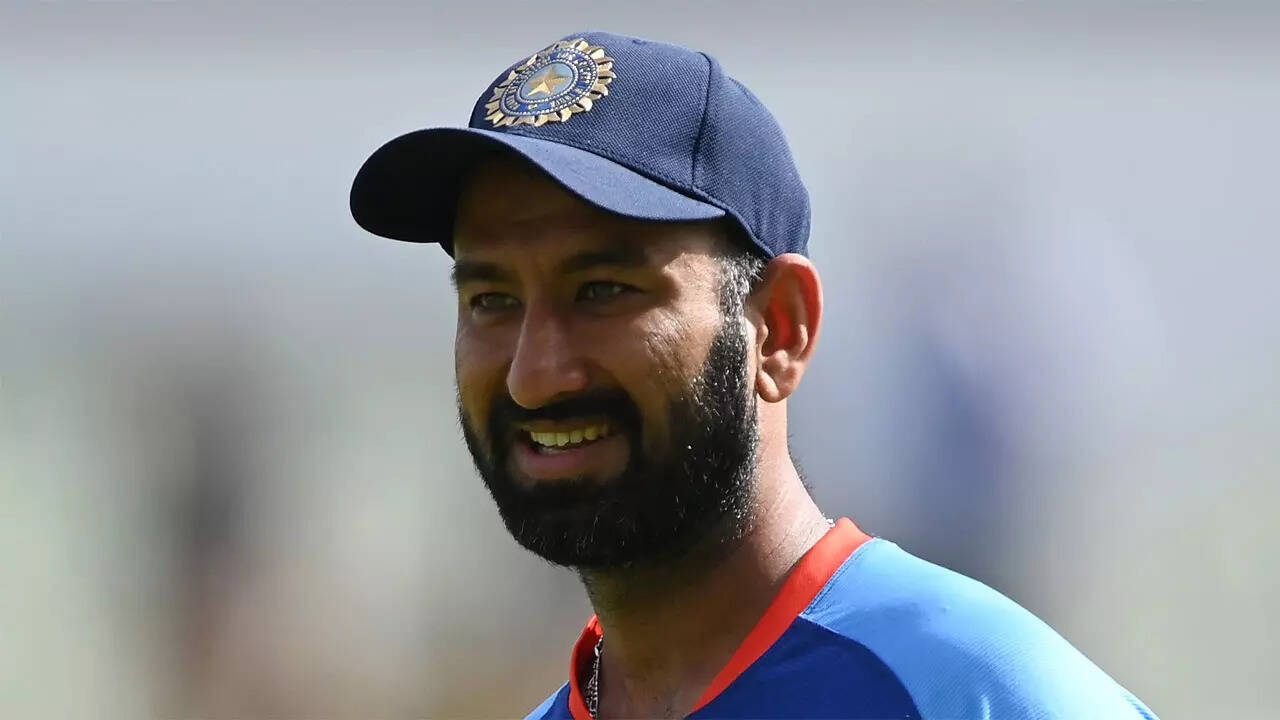 NEW DELHI: As senior India batter
Cheteshwar Pujara
gears up for his 100th Test, his Saurashtra teammate Jaydev Unadkat feels that wining India's premier domestic competition — the Ranji Trophy — will be the perfect tribute to his state cricket icon.
While Saurashtra captain Unadkat will feature in Ranji final against Bengal, starting Thursday in Kolkata, Pujara will be featuring in his 100th Test against Australia on Friday in Delhi.
Veteran Pujara made his Test debut back in 2010 and Unadkat said that he hasn't seen much difference in his state teammate's attitude and ethics over the years.
"I was there when he made his Test debut, I was a part of the team as well. I don't see a lot of difference in his attitude and ethics. There can't be a better way to give him a tribute (than winning Ranji title)," Unadkat said on the eve of their Ranji final.
He said the Saurashtra trio of himself, Pujara and Ravindra Jadeja were keenly following the Ranji team while being at the national camp.
"Even during our quarters and semis, we were following it keenly together. They wished the team all the luck. Hopefully we will make them proud with the cricket we play."
Unadkat had inspired Saurashtra to the Ranji title three years back, winning against Bengal in Rajkot. This season, they have stamped their authority in white ball cricket as well, clinching the Vijay Hazare Trophy one-day championships.
"Yes, we won the Vijay Hazare this year, but I feel this (Ranji title) would be a great tribute to him (Pujara), a player who has not only made Saurashtra but the nation proud. It will be the best tribute to give it to him," said the 31-year-old pacer.
"The inspiration that he has provided not just for Saurashtra, but millions of Indian fans… To stick to the basics, to be doing what he has been doing for the last 13 years is incredible."
Saurashtra have been one of the most-improved sides in domestic cricket, making four finals in 10 seasons. Unadkat became the first bowler in the history of the tournament to take 67 wickets in their 2020 triumph.
The magic mantra of his side has been to back the teammates, Unadkat said.
"We only had three-four debutants in the last three-four years. Even if they had a lean patch we backed them, we had the belief. Credit goes to the guys. After I took up the captaincy in 2017-18 we had no fear of failure.
"This team is very close to my heart. When you start playing, you always dream of playing Ranji Trophy. That was my dream to play for Saurashtra. To play for the nation comes secondary, first you have to establish yourself as a Ranji Trophy player. That dream still lives strong."
Unadkat said he still feels jittery and excited every time he goes out to play for Saurashtra.
"The fact that I'm able to build a team that everyone recognises as a formidable force in the domestic circuit, itself is a matter of pride.
"Any final that I play with this bunch of players is going to be special. We have been playing together for a decade now, we have a great bonding. I look forward to it every season."
Unadkat, who was part of the India Test side for the ongoing home series against Australia, made a special request to be "released" for the Ranji final.
"I was keen to get game time and the team management were equally keen. (Head coach) Rahul (Dravid) bhai wanted me to go out there and play, it was a mutual decision."
Was it a difficult choice to prefer playing for state to country?
"Playing a Ranji final in itself is a dream. I would rate both of them equal. Obviously playing for the nation everyone looks forward to. Hopefully, I will win the trophy and go back to the (national) team," Unadkat said.
(With inputs from PTI)