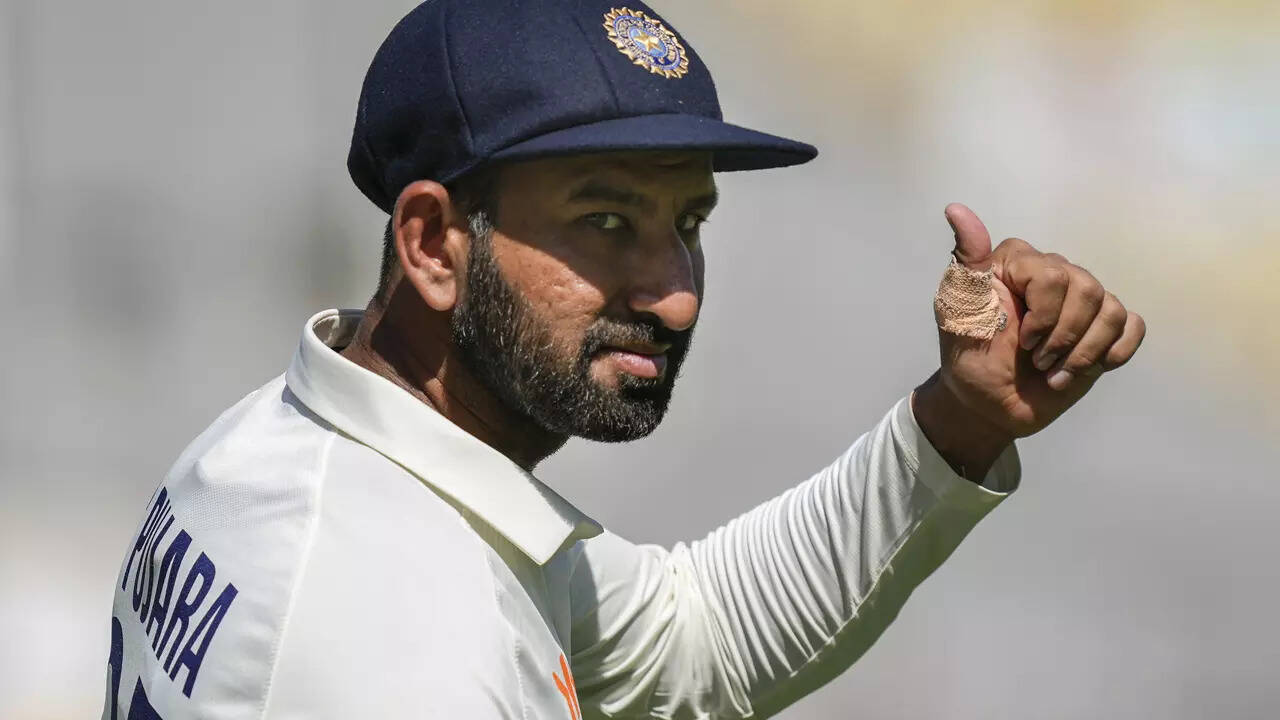 NEW DELHI: India batter
Cheteshwar Pujara
, who is set to play his 100 Tests against Australia in Delhi, on Tuesday said that he is not thinking about how long he can play and wants to take it one Test at a time.
Pujara will become the 13th Indian to play 100 or more Tests, with
Sachin Tendulkar
(200 Tests) leading the pack, when he sets foot on the Arun Jaitley Stadium ground in the second match of the four-Test series on Friday.
He made his Test debut in 2010 against Australia and has kept himself in the reckoning in the longest format ever since, overcoming the challenges in his professional career with hard work and determination.
"I don't want to set a target for myself. I want to be in the present. I want to take it one Test match at a time rather than thinking about how long I can play," the 35-year-old Pujara told ESPNCricinfo.
"It's important to enjoy the game, it's important to be on top of your game, and whenever you are not able to contribute, or you are not performing to the best of your abilities, you can consider the next step. I have just turned 35. There's still some time," he added.
On the upcoming milestone, where his family will be there to cheer him at the stadium, Pujara said, "Yes, it will be my 100th Test match, but you still have a job to do for the team and you focus on that a bit more. We are playing an important series against Australia.
"Yes, the second Test will be my 100th, but there will be two more Tests after that which will be very important for us to win to qualify for the WTC final," said Pujara, indicating the milestone will be just another footmark in his long professional career.
He counts discipline as one of the biggest prerogatives to excel in Test cricket as the five-day game tests one's character, patience and temperament to the limit.
"You are tested in your character, in your temperament, in your patience, as a person. It's also about how you behave off the field, and that also has an impact on what you do on the field because if you are not disciplined enough in Test cricket, you will see the results eventually on the field. That's why Test cricket is special," Pujara said.
In the T20 cricket era, Pujara still feels Test cricket is the ultimate form of the game, adding that his success is on account of leading a "very simple life".
"Yes, T20 cricket is more popular now but if you speak to any Test cricketer, regardless of how many matches they have played, they will tell you it takes a lot to become a successful Test player. I live a very simple life and that's the reason I don't get distracted by too many things," Pujara said.
Pujara wants youngsters, who only play white-ball cricket for the country, to also get some first-class games under their belt.
"If you are just playing white-ball cricket and if you aim to play Test cricket, then you should definitely play Ranji Trophy, without any doubt. Otherwise you will eventually get exposed at the international level in red-ball cricket.
"If you look at examples of whoever has done well in Test cricket, they would have played some red-ball cricket – whether it is Ranji Trophy, Duleep Trophy or India A, Rest of India. It is slightly different for the bowlers, but for a batsman, it is important to play red-ball cricket," he said.
(With inputs from PTI)