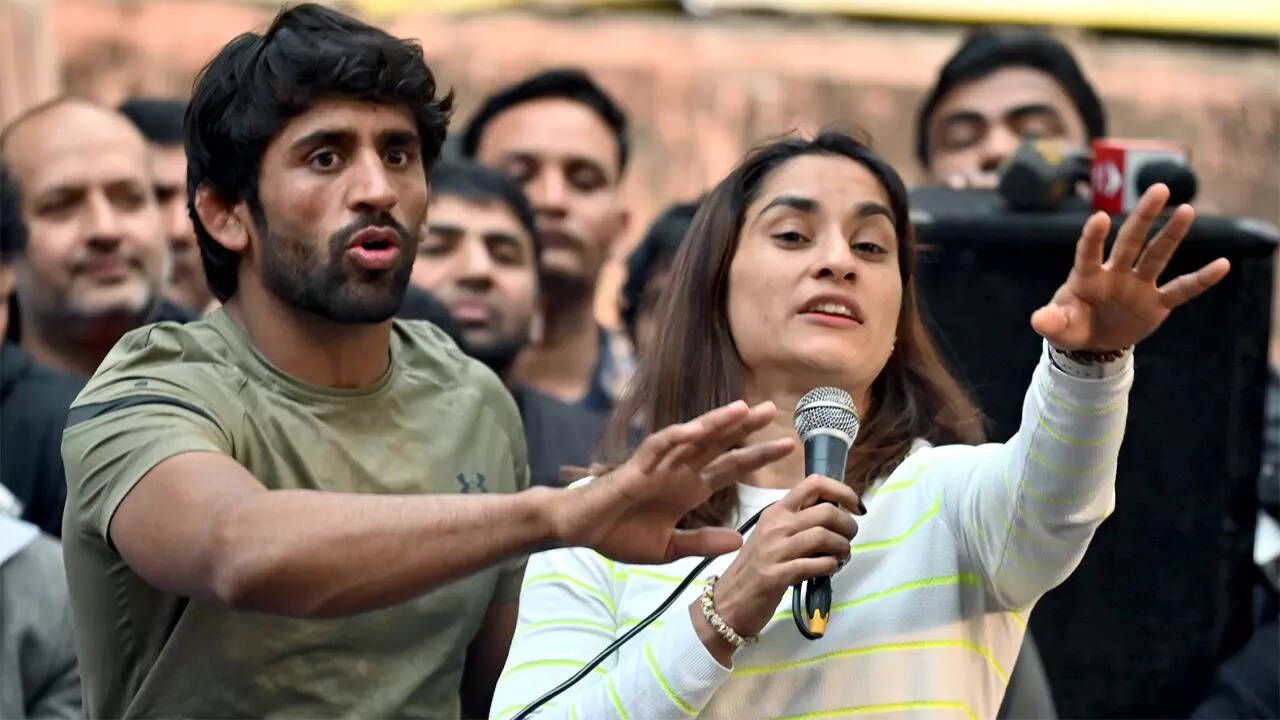 NEW DELHI: Eight wrestlers, including top guns Vinesh Phogat and Bajrang Punia, have pulled out of the upcoming Zagreb Open, saying they are not feeling ready for the competition, while Anju has withdrawn from the tournament due to an injury.
The Mary Kom-headed oversight committee managing the WFI affairs had on Wednesday named a 36-member Indian squad for the UWW Ranking Series event, starting February 1 in the Croatian capital.
The wrestlers, who had said during their three-day protest at Jantar Mantar that they will not compete in any national or international tournament till the Wrestling Federation of India (WFI) is disbanded and its chief is sacked, had communicated their decision about non-participation on the day of the team announcement.
Tokyo Olympics silver medallist Ravi Dahiya (57kg), world championship medallist Deepak Punia (86kg), talented youngster Anshu Malik (57kg), Bajrang's wife Sangeeta Phogat (62kg), Sarita Mor (59kg) and Jitendra Kinha (79kg), have all communicated along with Vinesh (53kg) and Bajrang (65kg) that they will not be able to compete.
"The reason they have given is that they are not feeling 100 per cent well to participate. They are stretching it a bit now. They should have competed after being named in the Indian team. Obviously, this is not going to be appreciated," a SAI source told PTI.
It is the first tournament for Indian wrestlers in the 2023 season, which is packed with crucial events including the Asian Games and the 2024 Paris Olympics Qualifiers.
The wrestlers, who staged a sit-in, lost practice time ahead of the tournament and would have struggled to put on a show.
The wrestlers had ended their protest after the government asked WFI President Brij Bhushan Sharan Singh, who the wrestlers have accused of sexual misconduct and intimidation, to step aside.
The government formed a five-member oversight committee to manage the WFI affairs till the probe is complete but the wrestlers expressed displeasure that they were not consulted before the formation of the panel.
The wrestlers want a person of their choice in the committee, which has former wrestler
Yogeshwar Dutt
and Trupti Murgunde apart from two SAI officials as members.
The probe committee has to submit its report in a month's time.
Apparently, the wrestlers are not happy with Yogeshwar's presence in the committee as they consider the London Olympics bronze medallist close to the Federation chief.
However, the government, according to sources, is not happy with the wrestlers' comments on social media.
Meanwhile, sources close to the WFI President said that Brij Bhushan is keenly waiting for the probe to begin so that his name is cleared of any wrongdoing.
"He is actually happy that a probe is being conducted. He believes that his name will be cleared and wrestlers' misconception will also burst. Neither he has sexually harassed any woman wrestler nor there are any financial irregularities in WFI, so he is confident," a source close to Brij Bhushan said.