Sania Mirza fought back the tears as she spoke on the Rod Laver Arena for the last time. She was typically self-assured and understated in her achievement – reaching the final of her farewell Grand Slam at the Australian Open. "If I cry – these are happy tears, not sad ones," she said.
It was not meant to be for her and compatriot Rohan Bopanna, who were defeated 6-7 (2), 2-6 in the summit clash in Melbourne by Brazilians Luisa Stefani and Rafael Matos. Even though she was unable to lift the trophy, the stage – one of the most iconic courts in the history of tennis – was fitting for her farewell.
This is where Sania belongs – the final stages of a Grand Slam. She is one of the most successful players at this stage in India's history, with six titles. She won the Australian Open twice before, once in mixed doubles in 2009 alongside Mahesh Bhupathi, and then again in women's doubles alongside Martina Hingis in 2016 – her last Major title.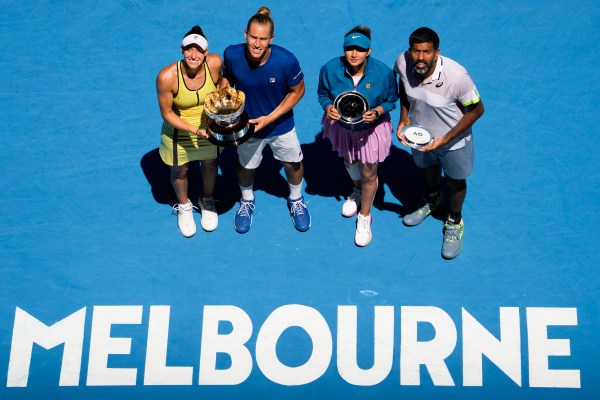 Brazil's Luisa Stefani, left, and Rafael Matos pose with their trophy after defeating India's Rohan Bopanna, right, and Sania Mirza in the mixed doubles final at the Australian Open tennis championship in Melbourne, Australia, Friday, Jan. 27, 2023.(AP Photo/Ng Han Guan)
Despite all the incredible highs she saw in her career on the doubles tour, it will always be Sania's pathbreaking performances as a young woman on the singles tour that define her career.
The six-time Grand Slam doubles champion revealed after her semifinal win on Wednesday that the most special moment of her career was actually a 1-6, 4-6 defeat in the third round in Melbourne Park back in 2005, when an 18-year-old Sania came up against the sport's greatest competitor.
"For me the most special memory remains playing against Serena (Williams) here when I was 18 years old, even though I lost that match, got blown off the court," she said after her semifinal win on Wednesday.
"Honestly, that was when belief was installed there that this is where I belong and this is where I want to be. Even though Serena won the tournament that year, for me, it made me believe that as a young Indian girl, the dream that I had to play in the slams, try and win them, was something that happened that year for me in 2005."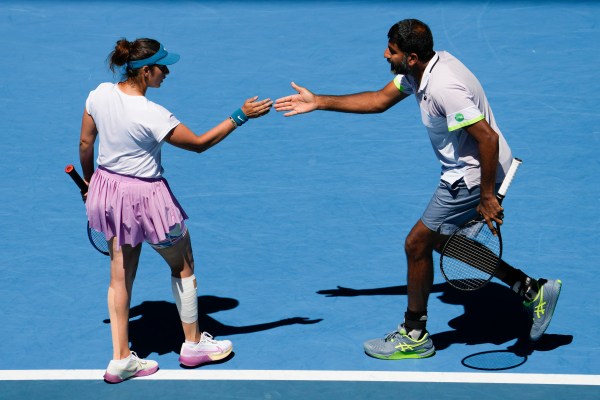 India's Rohan Bopanna and Sania Mirza react during the mixed doubles final against Brazil's Luisa Stefani and Rafael Matos at the Australian Open tennis championship in Melbourne, Australia, Friday, Jan. 27, 2023. (AP Photo/Ng Han Guan)
And 2005 would end up being a defining year for her. She went on to win her first WTA title in Hyderabad – to this date, the last ATP or WTA singles title won by an Indian. Later that year, at the US Open, the then-19-year-old would go on to script more history, becoming the first Indian woman to reach the second week of a Grand Slam, losing in the fourth round – the deepest run any Indian has made at a Major singles event since Ramesh Krishnan in 1987.
For 10 years, before moving on to play only doubles, Sania remained India's No.1 singles player, reaching a career-high ranking of World No. 27 in 2007.
Her impact would go beyond that, and the 91 weeks she spent as the World No. 1 doubles player, and the 43 doubles titles she won on tour, and the iconic, thunderous forehand that left many opponents in its wake. Before the likes of Mary Kom, PV Sindhu, and Saina Nehwal would gain worldwide recognition, Sania was the leading light for women's sport in the 21st century.
For a young Muslim woman playing at a competitive level, in a globally televised commercial sport, Sania was forced to deal with a level of scrutiny most would not have to. The criticism she has had to field has been far-ranging. The manner of her appearance and outfits on court were relentlessly scrutinised, she was once absurdly accused for disrespecting the national flag, her patriotism was questioned due to her marriage to a Pakistani cricketer, and she was questioned about when she was going to settle down and start a family – to fit traditional gender-norms.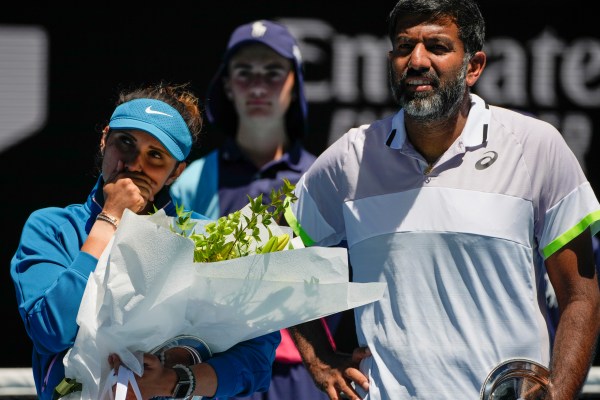 India's Rohan Bopanna and Sania Mirza listen to the post match speeches following their mixed doubles final loss to Brazil's Luisa Stefani and Rafael Matos at the Australian Open tennis championship in Melbourne, Australia, Friday, Jan. 27, 2023. (AP Photo/Aaron Favila)
There was never anything traditional about the pathbreaking journey Sania already began by the time she was a teenager, and true to form, she dealt with the criticism in the bold, self-assured manner in which she has dealt with so many opponents on the court.
She knew how much influence her platform gave her (Sania has 10.9 million followers on Instagram, Naomi Osaka, the world's highest-paid female athlete, has 2.7 million). She spoke out against domestic violence, gender pay gaps, and female foeticide, and most of all, against the stereotypes Indian women have to face to make it in professional sport.
"There are parents who have come and said, 'Oh, you know that my young girl wanted to do something out of the box and we want her to be like you'," she told the Straits Times, proudly, before the final in Melbourne.
Sania had, beyond the odds, come back to compete on the professional tour after the birth of her son, Izhaan, who is now four years old and has joined her in Melbourne, even reaching the semifinal at Wimbledon last year.
That mixed doubles semifinal at SW19 was meant to be her last Major appearance, having decided to hang up her racquet in 2022. But an injury that did not allow her to end her career on her terms delayed that, prompting her to play until the WTA 1000 event in Dubai next month, which will be her last.
That decision – trademark Sania wanting to forge her own path rather than accept the circumstances she is in – left her with one final shot at glory. She took that shot, just as she had so many times before.