A sport that breaks for lunch and tea, and harks back to a genteel time of measured applause while paper napkins are discreetly used to wipe away the crumbs of cucumber sandwiches, can lend itself to excessive philosophy and a supposedly higher moral plane. Cricket inevitably became a prisoner of its old pastoral image even if Test whites now jostle with coloured clothing in the laundromat while ODIs and Twenty20s crowd the calendar and draw fans to massive stadiums.
A bored shepherd's sport with rough-hewn logs and balls of wool played in the English countryside is now a full-fledged commercial endeavour greased equally by the athlete's sweat and the corporate dollar. But the link to an unhurried time, when twitter was only associated with birds, triggers interpretations that point at the perceived 'inherent goodness' within the willow game. And the 'It is not cricket' phrase to sum up a bleak event caused by a subterfuge of morality still remains in currency.
No other sport has this all-encompassing embrace that goes beyond a ground and it is this notion that perhaps crops up at awkward times and causes an outpouring of disparate views. The act of a non-striker stepping out a wee-bit early when the bowler is in his delivery stride has happened before and will continue to happen. But the tipping point was when the aggrieved bowlers' club decided to clip the bails and appeal for a run-out, which is well within the laws drafted by the Marylebone Cricket Club.
The relevant part starts thus: "38.3.1 At any time from the moment the ball comes into play until the instant when the bowler would normally have been expected to release the ball, the non-striker is liable to be Run out if he/she is out of his/her ground. In these circumstances the non-striker will be out Run out if he/she is out of his/her ground when his/her wicket is broken by the bowler throwing the ball at the stumps or by the bowler's hand holding the ball, whether or not the ball is subsequently delivered."
Open and shut?
So far so good and it seems like an open-and-shut case. But well, life is complicated and cricket tends to amplify that. Readers of a certain vintage may recall the 1987 World Cup held in India and Pakistan. In a crucial game against Pakistan, West Indian speedster Courtney Walsh paused in his delivery stride, his loopy eye-brows shot up, lines creased his sweaty forehead and he issued a warning to Saleem Jaffar, who had backed up excessively from the non-striker's crease.
Walsh refrained from knocking down the stumps and his goodness was celebrated as it was seen to be in sync with the alleged pristine purity of cricket. A mode of dismissal, which in those days went under the Mankad moniker, was ignored and the reality was that Pakistan won that game, West Indies got eventually knocked out. If Karma was supposed to both reward and punish based on cause-and-effect, Walsh and the West Indies were strangely done in by destiny's reverse-swing.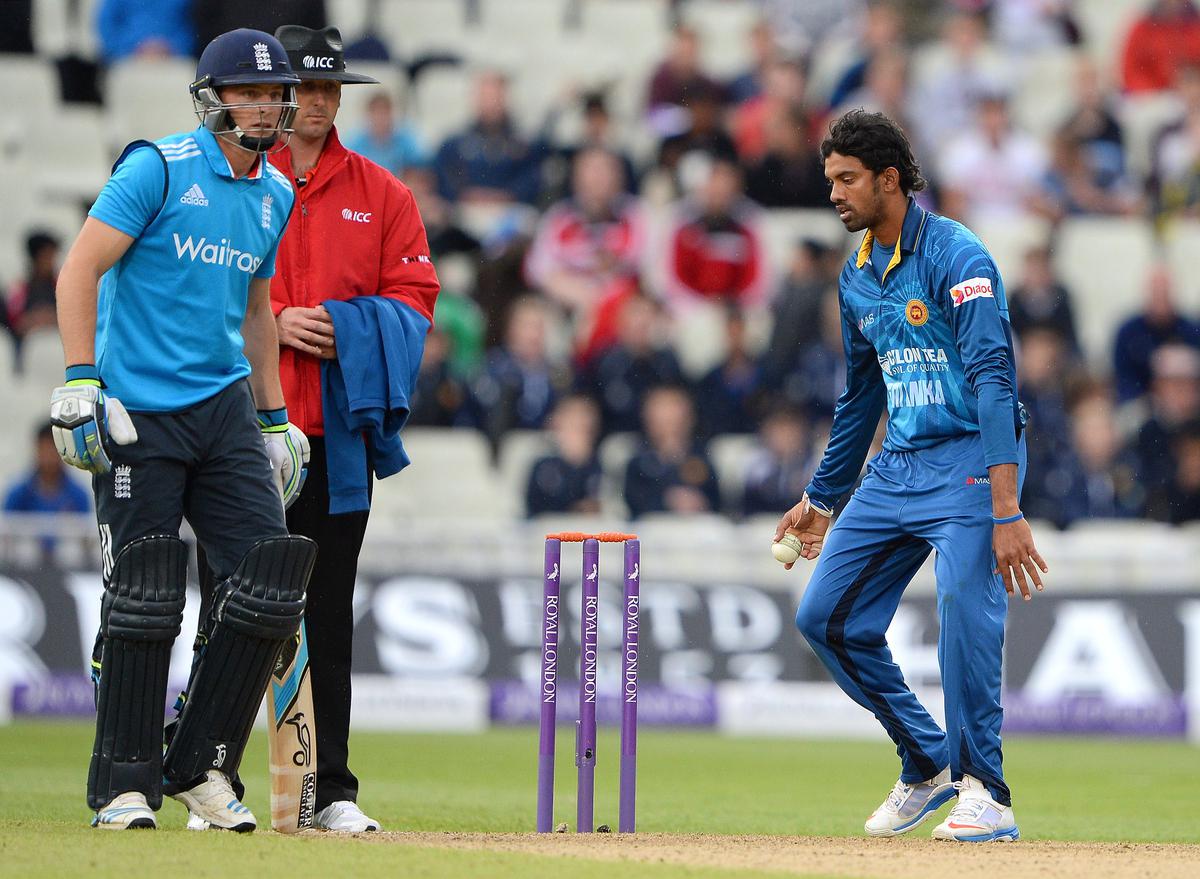 Vinoo Mankad, who ran out Australia's straying Bill Brown at the non-striker's in Sydney during India's 1947-48 tour Down Under, got linked with this mode of dismissal and Mankading became a part of cricketing lexicon even though the term didn't have any official sanction. "He did a Mankad," was uttered across the air-waves, the words having a sense of revulsion as their base because, as mentioned earlier, cricket operated at a higher level among fluffy clouds and angels smiling from heaven.
Sunil Gavaskar often reacted sharply, saying that this was derogatory to Mankad. He saw a veiled attack on India when in fact this mode of dismissal was well within the rules. One of Mankad's sons opposed this usage while the larger Commonwealth continued to snigger because, hey, you cannot violate 'the spirit of cricket'.
Logic vs. noise
The normalisation of this dismissal, despite those coy classicists berating it, finally rested on R. Ashwin. The off-spinner, aware of the cut and thrust and narrow-margins of modern cricket, was never averse to employing this mode of dismissal and, being an engineer, used sharp logic to dissect the noise around this method of sending off a restless batter.
But as talk swirls around the 'spirit of cricket', the ghosts of this much-debated run-out version always find a second life! Recently Rohit Sharma recalled Dasun Shanaka after Mohammed Shami ran the batter out in the final over of a lost cause for Sri Lanka. Rohit said that he would have preferred any other mode of dismissal to this, especially with Shanaka nearing the three-figure mark. As if on cue, the 'goodness of Rohit' was lauded on Twitter and virtue-signalling resurfaced and cricket's spirit was whispered.
Ashwin later did offer a reality check, saying Shanaka's 'run-out' was within the rules. But Mark Waugh put out a tweet against this mode of dismissal and Venkatesh Prasad countered, while the bails at the non-striker's end suffered an existential angst worsened by needless moral dilemma. Cricket has always oscillated between its rules and the manner in which they get implemented.
Adam Gilchrist often walked if he felt he had been dismissed while fellow-Aussie Ricky Ponting believed that it was the umpire's job to adjudicate unless it was an explicit dismissal like being clean-bowled. But Gilchrist has also at times refused to walk, leaving the umpires in a quandary. There was a former wicket-keeper in Indian domestic cricket who mimicked the sound of edges and then appealed, leaving the batter perplexed and the umpire convinced.
Lozenges laced with saliva have been previously used to alter the state of the ball. Even if the pandemic put an end to the use of saliva, the fact remains that cricketers will use all kinds of methods to get an edge and extract a profit, be it runs or wickets. Worse, matches have been thrown while shady brokers lurked beyond the ropes, but fingers treading upon social media are quick to pounce upon a legitimate run-out.
So is Rohit right and Ashwin wrong? Life is never black and white and there are shades of grey and multiple interpretations. Rohit's gesture was special while Ashwin's execution of the rule is spot on. There is no right or wrong here, but we just need to accept the context in which these decisions are taken. Cricket needs to move on, accept its diverse realities instead of getting besotted with trying to be too good to be true.
The South Indian way of eating a masala dosa demands the usage of hands but in Mumbai, where the office-goer is racing against the clock to catch a local train, he or she finds a fork and spoon handy at Udupi joints. It saves time as hands need not be washed. Cricket and life offer multiple options and influence the resultant decisions. Some bowlers will effect a run-out against a straying non-striker, some bowlers may not. Captains may have their own yardsticks but it all adds to the game's charm. Cricket need not always smell of talcum powder and strut around in spotless white. Let it be.