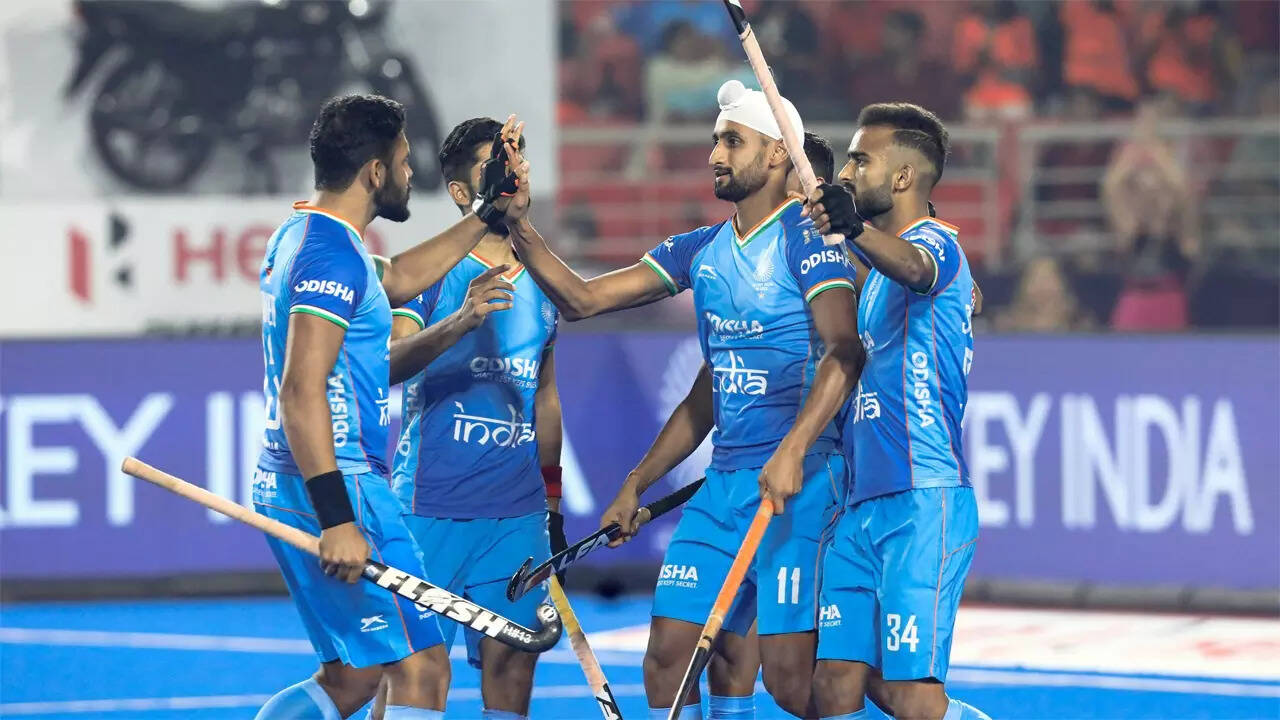 BHUBANESWAR: India's silent guns finally found some ammunition to fire as fans in Rourkela put the disappointment of team's failure to reach the Men's Hockey World Cup quarterfinals behind them to once again pack the stands at the gigantic Birsa Munda Hockey Stadium. And the Indian team responded in style to hammer the 2018 Asian Games champions Japan 8-0.
It was a game of many firsts for the home team that was pushed out of the title race by New Zealand in the crossovers.
As it happened: India vs Japan
Five of India's eight goals came off penalty corners (PC), including skipper Harmanpreet Singh's drag-flick managing to beat a goalkeeper on a PC for the first time in the tournament. India's PC conversion rate was the best in five matches — 5/11.
Abhishek (36th and 44th minute) and Harmanpreet (46th and 59th) pumped in two goals each, while Vivek Sagar Prasad (40th), Manpreet Singh (59th) and Sukhjeet Singh (60th) joined Mandeep to score one goal apiece.
The team played like a giant woken up from its sleep, pounding Japan with a flurry of counter-attacks for the majority of 60 minutes, which had all: PCs, variations on PCs, fluid midfield and goals.
India finishes it off in style as they beat Japan. Here are some moments from the game.🇯🇵JPN 0-8 IND🇮🇳… https://t.co/J0S8dOAVep

— Hockey India (@TheHockeyIndia) 1674747142000
But the first 30 minutes were goal-less.
Mandeep Singh's off-the-ball running finally returned against the opposition he likes the most to score against. Mandeep's name was the first on the list of goal-scorers , with his neat deflection on a set-piece in the 33rd minute. It opened the floodgates.
The pattern of the game didn't change thereafter — India attacked, Japan defended. It remained that way till the final whistle.
Vivek Sagar Prasad, whose selection straight into a World Cup after a long injury layoff has been questioned, finally managed to add some fluidity to the midfield. He set up Abhishek nicely at the end of a counter-attack, and Abhishek's reverse-hit deposited in the net for a 2-0 lead.
Like Mandeep and Abhishek, Vivek also scored his first goal of this World Cup when a rebound off Harmanpreet's drag-flick fell onto his stick, and Vivek's crisp hit sounded the board.
By now, the Indian team was having fun and almost had a hitting session in front of the Japanese post. In between, with the game being as open as a hockey match can be, Japan had their chances; but the Indian goalkeepers PR Sreejesh and Krishan Pathak managed to keep them at bay for a clean sheet.
Abhishek's reverse hit in the net then made it 4-0, while Harmanpreet heaved a sigh of relief when finally a drag-flick from his stick beat a goalkeeper. His first and previous PC goal came in the pool stage when the Welsh team had withdrawn their goalkeeper.
Japan then replaced their goalkeeper Takashi Yoshikawa, who stood like a wall for 30 minutes before wilting under pressure in the third quarter, with Kisho Kuroda.
The dying minutes of the game were played inside Japan's 23-yard, with India scoring thrice inside two minutes.
A field goal by Manpreet Singh, Harmanpreet's second goal off a PC and Sukhjeet making full use of another rebound off Kuroda's pads on a PC to find the goal rounded off Japan's misery.
India will now take on South Africa on Saturday in the 9th-12th place playoff.