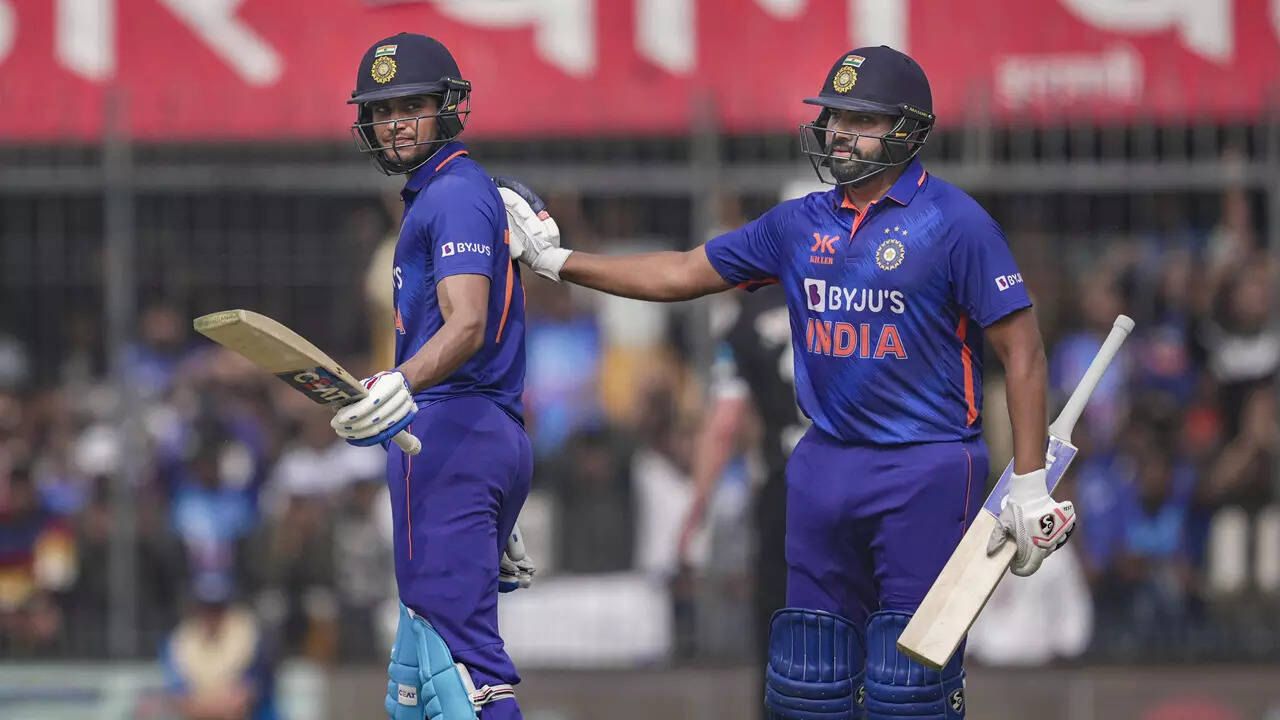 NEW DELHI: India's new ODI opener Shubman Gill has impressed skipper
Rohit Sharma
by his understanding of batting in one-day cricket. Young Gill has grabbed the opportunity to open with his skipper with both hands and almost nailed down his slot for the upcoming ODI World Cup later in the year.
Gill scored a record 360 runs at an impressive average of 180 in the just concluded three-match ODI series against New Zealand, which included two centuries.
"He understands his batting, he paces his innings well. That is what you want in one-day cricket. You want to go big, you want to go deep in your innings. He has shown that. He has got big hundreds," Rohit told reporters after their 90-run victory in the third ODI in Indore.
1/9
Top 5 – The Best of Rohit Sharma & Shubman Gill's opening stands
With veteran Shikhar Dhawan's patchy form effectively taking him out of the running for a place at the big tournament, India have zeroed in on Gill and Ishan Kishan as Rohit's potential opening partners.
Gill's 112 against New Zealand on Tuesday was his third hundred in four innings, which include a double hundred in the series opener in Hyderabad.
Gill and fellow centurion Rohit forged a 212-run stand on Tuesday to set up a 3-0 series sweep as India dethroned New Zealand as the top-ranked one-day team.
1/20
Rohit Sharma, Shubman Gill star as India go top of ODI rankings with series win over NZ
Gill smashed a career-best 208 against New Zealand on a flat track in Hyderabad and was adjudged Player of the Series for his aggregate of 360 from three innings.
"No matter how flat the pitch is, to get a double hundred is not easy. In that game, the next best score (by a team mate) was 34," Rohit said.
"It shows that he was calculative and he knows that he needs to bat deep. A set batsman needs to bat for as long as possible… He has got great maturity in the way he thinks about his game, the way he approaches the game," Rohit added.
Rohit's 101 off 85 balls was his 30th ODI hundred, bringing him level with Australian Ricky Ponting. Only fellow Indians Sachin Tendulkar (49) and Virat Kohli (46) have scored more centuries in this format.
"I just want to play my cricket, enjoy my cricket and bat the way I am batting at the moment. When the numbers show up, they look nice but I don't think any cricketer plays for numbers," said Rohit.
(With inputs from Reuters)