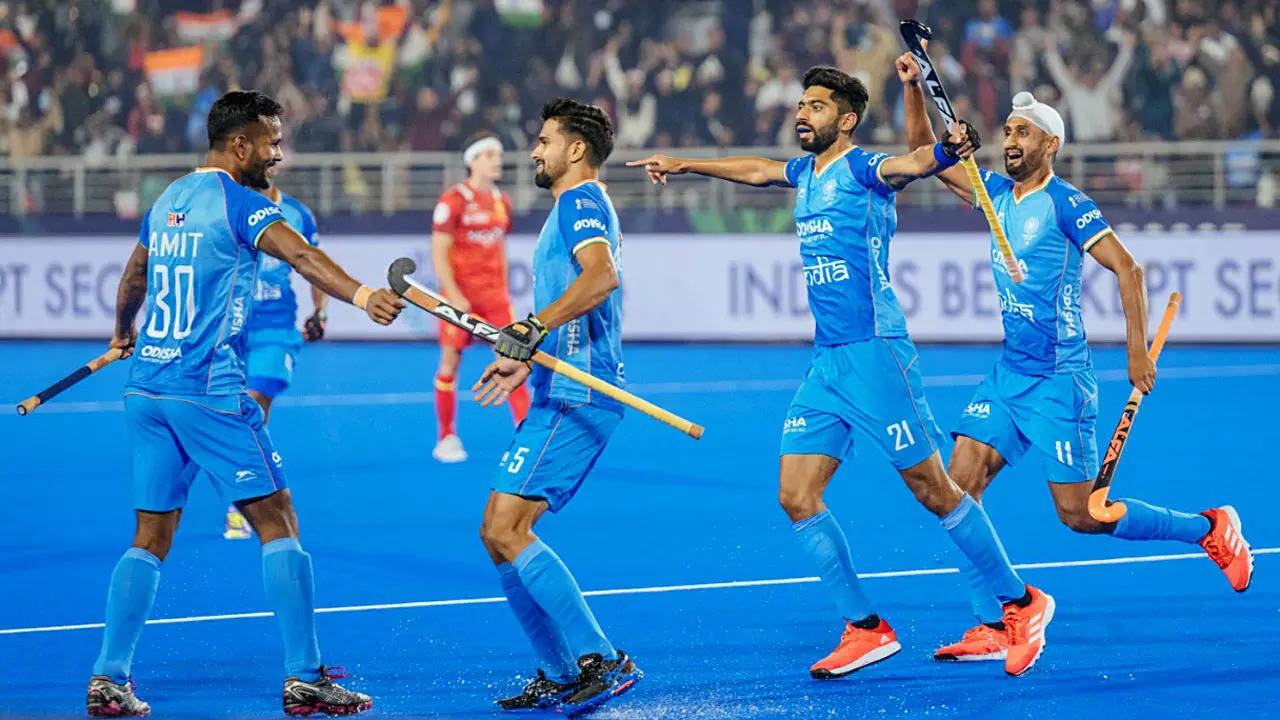 ROURKELA: India's chief coach Graham Reid on Friday said his players ticked most of the boxes in the 2-0 win over a tricky Spain in their FIH men's hockey World Cup opener here.
He also praised the home team's defensive efforts to deny their opponents any chances.
"The boys were able to take the ball out of the goal. It was a good start. It is good to get the first game and it is done now and we will now focus on the next game," Reid said at the post match press conference.
"We did practice of playing with 10 men as we thought at some point in the tournament we are going to play with 10 men. It was good. We got in front a lot today and that was very important. We were first with the ball and that makes a lot of difference in these sort of games.
"What is pleasing today is one the defensive effort and the second we handle the ball very well. There were not too many people who did not play well. That is what you need to win a World Cup. We need to continue it in the next game," he added.
India will play England in their second Pool D match at the Birsa Munda Stadium here on Sunday.
The Australian was also happy with the performance of both the goalkeepers PR Sreejesh and Krishan Bahadur Pathak.
"It is the way we have been playing. Both keepers have been playing fantastically well and I am very happy. They are pushing each other," he said with a wry smile as the question related to Sreejesh, already one lof the legends of the game.
"I want both of them to be life options, that is, if they are playing well and something happens to one of them and the other is slotted quite easily. There are a lot of positives."
Reid also hinted that the Indian side is on the road to achieve greater heights in future.
"As a coach, I do a lot of things and try to fix problems, block holes and doing it over and over in the two years. But the problem is you never know which is the one to fix the problem but I am a big mindset person and a lot of things we ended up talking tactically are fixed quite easily when you have a good mindset. There was tempo, there was turn which went right for the team," he said.
"The great teams in the world make decisions on the pitch and that I think that is what ends up happening with me as a coach. It is like you are putting your kids out and let them run and make mistakes and we are going to fix them later.
"But they also need to take their responsibility. Harmanpreet (Singh) made a nice speech before during the shirt presentation and part of that is we have to cannon balls, each of us and we showed a bit of it today. We just need to keep building on that."
Talking about a metaphor he had used earlier, he said, "On that Australian tour we fired 15 bullets and may be we have found a couple of cannon balls now."
He was alluding to the number of goals India had scored (15) in that five match series which India competed tooth and nail but lost 1-4.
Captain Harmanpreet was also happy with the the team's impressive defensive performance.
"We speak daily that we must be strong in defence because that is important and that we did it. We cannot commit any silly mistake and all the boys did well when we were one man down (in the final quarter). As the coach said we did box practice and that helped," he said.
On his own performance, the captain said, "Yes, I could not convert the PCs and also missed a penalty stroke. But it was part of the game and I need to forget this and move ahead and focus on the next match. But overall, the team played really well. We are good at pressing."