A couple of days ago, as the towering stands cast their shadows on the turf and the wind chill pricked, the Indian team walked around 150m from their accommodation to the centre of the pitch inside the Birsa Munda Stadium and sat near the centre circle.
"It's dark, no one else is there, just us," Graham Reid, the India coach, set the scene.
For the next hour or so, they had a series of heart-to-heart conversations: veterans recalling their past World Cup experiences; new faces sharing their dreams; and all of them sharing everything they've been through as a group en route to the World Cup, where India open their campaign against Spain on Friday.
Reid never leaves anything to chance when it comes to prepping for a major tournament. Once, ahead of the Rio Olympics, he had the Australian players sit in a bus for nearly an hour to prepare them for a situation where their bus loses way, a bizarre situation that is not uncommon at the Games.
With India, he's tapped into the emotions.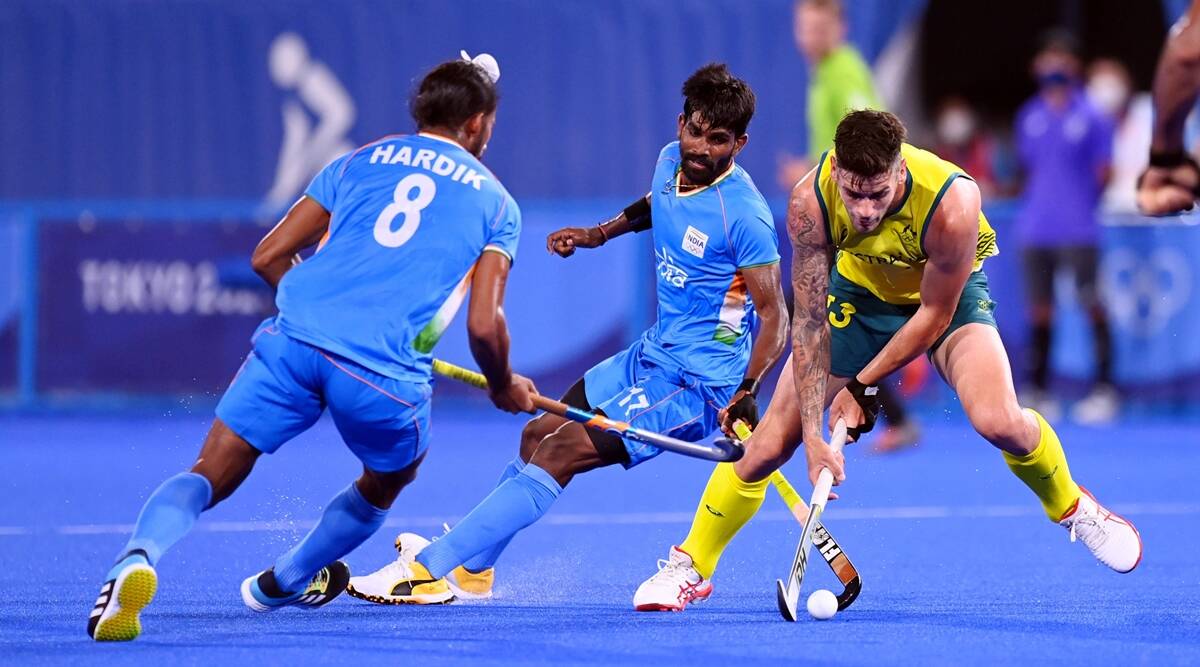 Indian players will look to be in top form. (FILE)
Before leaving for Tokyo, where they returned with a bronze medal, he had his players sit by the poolside inside the SAI Campus in Bangalore after the team selection and each of them told their stories. "Why are we here, what do the Olympics mean to you… that was a powerful moment," Reid said. "After that meeting," captain Harmanpreet Singh added, "the bonding got stronger. You could see it in training – people were sliding, pushing, working hard… very high intensity. Maza aa raha tha."
The coach and the captain will hope this intimate session at Rourkela will have a similar impact.
Uncertainty, self-doubt
Olympic medallists they might be but the aura has been missing around India ever since they stepped off the podium in Tokyo. Before they left for Rourkela, there was excitement, of course, within the team leading up to the home World Cup but there was also a sense of uncertainty.
There's a hint of self-doubt over the ability to come back after conceding the first goal and slight concerns stemming from the defensive fragility.
Team India. (Source : Hockey India/ Twitter )
In the 38 matches they played in 2022, India conceded close to four goals per game, including nine in two games against Spain – who they face on Friday – and 10 in three against their opponents on Sunday, England. To be fair to them, India drew two and won one match against England, showing that despite allowing goals, they have the ability to score as many or one more than the opponent. But it's a philosophy fraught with risk.
The reasons for the leaky defence are many – experimenting with a different structure and pressing system, below-par fitness in some cases (much of it due to prolonged celebrations following the Olympic medal) and Reid trying out different players – 31, to be exact.
Reid doesn't want to make that – the trying different players bit – as an excuse. "But that's probably where we are," he said. "It doesn't make too much difference with a team like Australia. Their depth is really quite good. That's where you want to try and head to. There's no difference in performance. (But) If you get someone new in, it takes a long time to (settle), 30 internationals or so."
Emphasis on man-to-man marking, positioning
Under lights on Thursday, during their final training session before the World Cup opener, there was an emphasis on man-to-man marking and positioning inside the 'D'. Harmanpreet said the team has been focusing on the other aspects: the counter control and playing with one man less on the field – perhaps because of the poor disciplinary record.
On some of these issues, India will draw inspiration from their recent tour to Australia but even though they 'played well', the team ended up conceding 25 goals in five matches. On the flip side, they scored four goals each in four out of the five matches, once again underlining the same trend – while the defence seems split wide open, the forward line remains potent.
One of India's biggest sources of goals have been penalty corners, where the team has four drag-flicking options in Varun Kumar, Amit Rohidas, Nilam Xess and Harmanpreet although it's the captain on whose shoulder most of the responsibility falls.
Harmanpreet downplayed the over-reliance on him for goals – especially from penalty corners – but Reid was more forthright about it. "I would be lying if I say that there isn't pressure on him. We have been spending a lot of time on our variations and making sure that we can deflect some of the pressure from Harman," he said.
In Tokyo, it was these little things that pushed India onto the podium. And consequently, for the first time in decades, India will go into a World Cup with two welcome firsts – as an Olympic medallist and with the same coach. The first underlines the country's rise in world hockey while the second points to one of the reasons that led to it – stability.
Reid, with his shrewd tactical planning and soft man-management skills, has instilled a sense of calmness in a group that perennially operated in crisis mode. On Thursday, there was a shirt presentation ceremony within the team. "Just to get everybody used to the fact that you are playing a home World Cup. It's Sreejesh's third World Cup, so players are sharing their experiences," Reid says. "A bit of loving… the boys are ready to go."