"Players kept calling me 'Sir' for a while before correcting to 'Madam'," says N Janani about her first day as a Ranji Trophy umpire for the Railways vs Tripura game at Surat on Tuesday. It wasn't just about these misplaced gender honorifics; the 36-year-old also battled an old stereotype: that women didn't quite understand the nuances of the game.
"They would try to check if I indeed knew the rules… They are not used to seeing woman umpires. In a close call, they would ask – 'Are you sure it's bat and not leg bye?' – hoping to put some doubt in my mind. But once they figure out that you are confident, they get on with the game. Now that there are three of us, they will get used to us."
This week, Janani, along with Vrindha Rathi and V Gayathri, became part of the first batch of women umpires to officiate in the Ranji games. The one-time IT professional, who got bored with her desk job in the very first week, had to undergo a long hard journey to break cricket's male bastion. And when it happened, minutes before the start of the game at Surat's Lalbhai Contractor stadium, there were "butterflies in her stomach".
Janani didn't even get much time to soak in the moment as the play began from the end where she was officiating. "Just after I had said 'Let's play', I froze for a while. And off the fourth ball, there was a loud appeal for an lbw, which sort of shook me up and from there on, it was just normal routine," says the umpire who is on the International Cricket Council panel.
The night before her debut, Janani hardly got any sleep. And even when she woke up and reached the ground, she felt the pressure. "To be honest, it is just another game. I have already umpired in an international fixture (India vs Australia women's T20I last month), but for some reason, I would put pressure on myself. I was nervous as I walked in," Janani told The Indian Express.
Yet, once in the middle, players noticed that Janani rarely buckled under pressure, not even when players appealed excessively.
Complimenting the debutant umpire for handling "the game very well", Railways captain Upendra Yadav told The Indian Express, "We knew that she was going to officiate, but it still looked different when the play started. However, whenever there was a close call or appeal, she handled it very well. Usually with new umpires, players come up with tricks to mislead them, try to take unscheduled drink-breaks and so on. But since she has already officiated in international games, she knows the rules."
Though women's cricket has made its mark in India, umpiring, coaching and commentary are still largely a male preserve.
Janani says that once it was decided that she would officiate in these matches, she decided to make the players and herself comfortable by attending practice sessions on the eve of the Ranji match.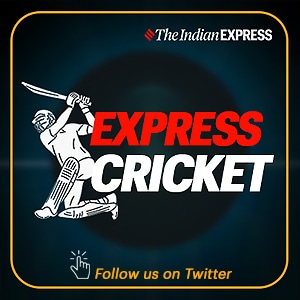 Janani has previously officiated in First Division matches in Chennai and in the Tamil Nadu Premier League matches. "Once the players get familiar, they don't put any pressure. But sometimes when they don't get a decision their way, they try to put some pressure and tend to go to the male umpire. It happens vice-versa in the women's game, where they come to women umpires when a male umpire is too strict."
For Janani, in many ways it is a dream that started way back in 2009. A computer engineering graduate, she was hired by a reputed IT firm as part of the campus placement process. But a 9-to-5 job was not something Janani had in mind for herself.
"Every day as I ran JavaScript, on one of the tabs on my computer, I would open this website to check cricket scores. And since I didn't like the job, I wanted to do something different. And since I was so passionate about cricket, I decided that umpiring was what I wanted to do," Janani said.
In 2009, as the Tamil Nadu Cricket Association advertised for the umpires' exam, Janani inquired if she could apply. "No", came the reply. Three years later, she received the same answer, but by 2015, the needle had moved. "The rejections were hard to take because I was already fed up with my IT job. In 2015, when I approached TNCA again, they told me to go ahead and write the exam and that they would take a call later. I attended the classes and cleared the exam. I also cleared the viva voce. After that, I started officiating in school cricket and here I'm now," says Janani, who quit her IT job in 2018.
From coding to decoding cricket laws and handling gender biases, it's been quite a journey for Janani.