Manipur's five-day long Holi festival is rarely about colour-throwing revelries. They have 'mothers marathons' and 'waterpot carrying' races, wearing phaneks instead. "100s of sports clubs backed by the community take part in sport on every festival occasion. They don't wait for governments to do something, they just play," says former shuttler, now part of policy research at Simply Sport, a Bangalore based organisation, Aditi Mutatkar, explaining how the north eastern state, has ended up a powerhouse in sport.
The daily diet in most of Rajasthan is just not conducive for sports ("food can make or break champions"). And despite having the highest Arjuna awardees from Maharashtra, Shivaji Park, the sporting nerve-centre of the state capital Mumbai – as modern as they come – rarely has girls playing team sports at the ground: these were some of the qualitative remarks jotted down in Simply Sport's 'Breaking Barriers for Women in Sports' pilot survey for 2022.
213 athletes from Haryana, Bihar, Rajasthan and Manipur (82% in 15-20 age category) were surveyed through questionnaires and 34 semistructured interviews conducted with coaches. The four states were chosen as representatives of states historically having maximum participation and medals won by female athletes (Haryana & Manipur) and minimum – Bihar and Rajasthan. It was aimed at understanding barriers for women in taking up sport as athletes, coaches and administrative staff while proposing actionable recommendations.
Some startling figures popped up: despite all that enthusiasm and initiative, Manipur remained a curious case where 48% of female athletes said they have to "travel more than 10 km to access a sports facility."
With a view to spark scientific studies on issues like reluctance to participate in sports, even recreationally, and figure out reasons for large percentage of dropouts in female sports, according to Simply Sport's Ankit Nagori, the survey hoped to address the invisible women on the sports field – at times even at the highest elite levels. Overall 49 % of Tokyo Olympics athletes were women; China – 70 %, Canada 61 %, Russia, Australia, USA, GB 54-56 %, as per the survey. India lagged behind at 44 %.
The National Games participation in 2011 was a starting point: Haryana – 209, Manipur – 183, Rajasthan – 40, Bihar 51. Haryana, India's 18th most populous, had sent 51 women to the Olympics / World Championships / Asian or CWG and had highest participation at CWG 2022 with 39 athletes. Their sports budget allocation last year: 18.891 Cr INR. While Maharashtra had the highest female Olympians, the success story was the 23rd most populous state of Manipur – 52 women at Olympics or other Games or World's, 7 at 2022 CWG, and a budget of just 12.902 lakh.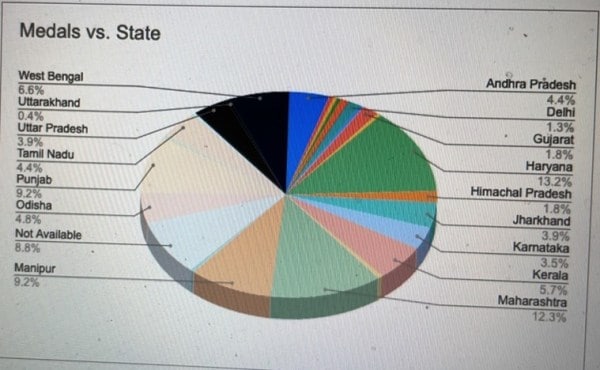 Credit: Simply Sport
Rajasthan – largest state area-wise, 7th in population had just 5 at Olympics and World's, though 4 at last CWG. (Budget committed this year – 16.5 Cr).
Bihar, acknowledging its straggler status in women's sport, held a two day conclave to address the sub-par numbers. The third most populous state had sent 0 to the Olympics, according to the survey. It's 39351 Cr budget was split between education, sport, arts and culture.
The largest increase in medals won by female athletes, over the last two decades, was seen in Jharkhand and Odisha, both leaping into India's Top 15 on the dint of supportive facilities in last 20 years.
While India has hugely come upto speed over the last few Olympics, (Rio was 100 % women winners, albeit just 2 medals and Tokyo had 3 out of 7), the total participation figures read 257 female athletes compared to 1008 males. 54 at Tokyo compared to 4 at Atlanta was promising, though in a nuanced observation: "3.1 % of participating women won medals, higher than 2 % of men." Overall, 8 women's and 27 men's medals have been won at Olympics (CWG – men 285, women 175; Asian Games – Men 472, women 161).
Women missing in coaching, admin
An International Olympic Committee directive requires 30 % female representation in governing bodies of sport. In India, 8 National Sports Federations, per the report, "don't have female representation in their governing bodies."
Hockey India has 34 % women representation, other NSFs 2-8 %. "Only Athletics federation has an international level sports woman (Anju Bobby George) as Vice President, which is highest." PT Usha leads IOA now, though it remains to be seen if she will enjoy complete independence in decision-making.
Poor access to sports facilities, no equipment to play, having to travel more than 10km to reach the facility, safety concerns, lack of preferred female coaches, unsafe travelling to tournaments and discrimination in sport were the common thread running through the whole geography, as the survey respondents overwhelmingly flagged these concerns.
Lack of drinking water and toilets at coaching fields was a common refrain. "Unclean toilets are breeding ground for infections (UTI). No changing rooms point to lack of sensitivity towards gender based issues like privacy," the report noted.
Female athletes in Bihar also pointed out how if they showed the courage to play in shorts, men would surround the group and stare, which could get intimidating. They were comfortable playing if they could wear salwars under the skirts. Many complained of being unable to travel to practice daily, because cycle tyres were punctured, and very few sports facilities were well-lit in evenings – the only time they could train.
Districts get given 2-3 cores INR every year to conduct tournaments. "However organisers end up spending meagre amounts compromising quality of events," the report said.
Perhaps the biggest indictment was in India's poor numbers on female coaches, though globally too only 11 % of accredited coaches at Rio Olympics were females. The issues tended to be varied. "Most of certification courses conducted in Indian sports coaching or physical education do not have a section on female physiology and menstruation awareness. Upskilling of coaches who only have initial diploma doesn't happen. For female coaches – travel, transfer, working odd hours, time spent outside home and away from kids are real issues often ignored," Mutatkar said.
"India hasn't tapped into retired athletes and skilled them to be absorbed into coaching and administration as they leave professional sport," the report said, adding most women were not trusted to be capable of being head coaches. "Among respondents, most female coaches were working under supervision of male coaches. They claimed that given the opportunities to lead from front would be a game changer." However, the coaching diploma-seeking starting ratio was 60:40. "Then coaches were resistant to transfers. So they don't apply also. Won't leave cities."
Anju Bobby George would stress on the same, as quoted in the report: "Gendered lens are required to make policies like child care or transfer policy in coaching and support staff roles to help women continue in coaching for longer terms."
One of the biggest issues highlighted in the report came from current doubles shuttler, Ashwini Ponnappa: "Through media campaigns our aim also should be to change the way women's sport are perceived. If people think it's boring, slow and not interesting, that mindset needs to be changed by taking active actions to make it better all round for young girls to take up sports and also for people to view it," she said.
A BBC survey in 2020 had pointed out that 50 pc of its respondents were unable to name a single Indian sportswoman, while 38 pc believed "women's sport is not entertaining as men's sport, though most believe wonen should receive equal pay."
"In India only 38 Percent of the population claimed to watch women's sport, in comparison to 66 pc viewership in Australia. Lower visibility of women's sport in India was a problem," the Simply Sport report said.
Using benchmarks of UK and Japan, it was also stressed that India could use technology – like videos of training – to scout for talent, like UK did (young athletes send in training videos and then get called for trials). Japan's encouragement of women's coaches was worthy of imitation.
An assortment of findings were also noted: PE teachers played a huge role in keeping school athletes interested in the sport, though 50 % were unaware of government schemes. Menstruation wasn't factored into female training, with even female coaches not thinking it relevant. Playing gear could lead to maximum dropouts. Some states like Bihar took part in only 1 tournament through the year – SGFI and that too knockout, leaving them with no exposure.
Haryana athletes were the most confident in taking up sport, could wing situations on that self belief, and had female role models in the family. "In Haryana and Manipur, they would talk about a grandmother picking up a sword and going out to fight. Besides being genetically and nutritionally strong, and being better than a cousin was a huge motivation in Haryana – if she had a silver, they had to have gold. If she had hold, they had to win two," Mutatkar explained.
Also, India was gaining from a second-generation dividend, where parents who merely played at club or state level, were in a better position to guide their children to the next step internationally.
However, the state of women's health in India was dire, even beyond the Vitamin D- Iron deficiencies. "Only 3 % women between 15-49 meet healthy levels of physical activity in India. 76.3 % adolescent girls were not in physical activities. And 60.3 pc urban women were unfit."