RAJKOT: Unleashing yet another masterpiece,
Suryakumar Yadav
yet again showed why he's the No 1 T20I batsman in the world, as he demolished Sri Lanka in the third and deicing T20I at the SCA Stadium here with a fabulous 112 not out off just 51 balls, in a blazing knock which had as many as 9 sixes. It was innings which bludgeoned the Lankans completely, and chiefly contributed to their 91-run defeat at the hands of India, who bagged the T20I series 2-1.
Clearly, when you have the luxury of an explosive batsman like Suryakumar Yadav in your ranks, who can tear apart any bowling attack on his day, life can be easy for a captain.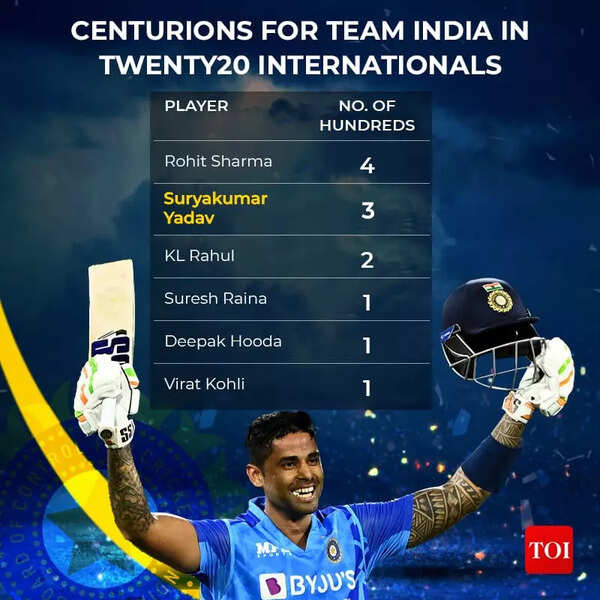 "Today, it felt like Sri Lanka against Surya. So, it makes my life very easy. That's the reason I've always mentioned that someone like Surya is so important to us in white-ball cricket, because the way he changes (the game) the way, the way he plays some of those shots, he actually breaks the morale of the bowler, it kind of helps the other batsmen as well," India's T20I skipper Hardik Pandya said post the match. "Overall, Surya and Rahul Tripathi (smashed 35 off just 16 balls) were terrific," he added.
𝐃𝐞𝐜𝐨𝐝𝐢𝐧𝐠 𝐒𝐊𝐘'𝐬 𝐦𝐚𝐬𝐭𝐞𝐫𝐜𝐥𝐚𝐬𝐬 𝐓𝟐𝟎𝐈 𝐜𝐞𝐧𝐭𝐮𝐫𝐲 𝐢𝐧 𝐑𝐚𝐣𝐤𝐨𝐭 🎇Head Coach Rahul Dravid interviews @surya_14kumar post… https://t.co/3Jyti07YfQ

— BCCI (@BCCI) 1673154399000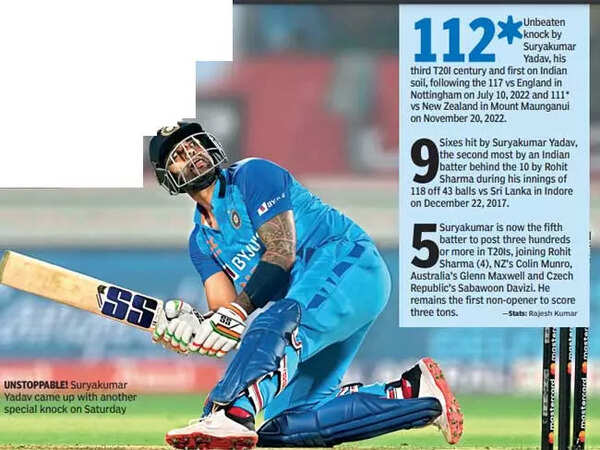 In the dressing room, what does he tell a player like Surya before he goes out to bat? "You don't tell him. See, the kind form Surya's been playing in, the kind of clarity he has, you don't have to go and speak to him. He's always very clear about his plans, And that's the reason he's successful in this format. He doesn't doubt his ability. Whenever he's in double mind, he always comes (to me) We have a chat. It's just about giving that little bit of clarity..it's about..you know just go out there and enjoy, which he does. I don't think anyone has to say anything to him," Pandya explained.
Raw emotions 🎦A Suryakumar fandom frenzy 👏🏻A special reply to an Instagram story 😉Unparalleled love for SKY f… https://t.co/a4rE40j5CW

— BCCI (@BCCI) 1673173818000
"I think that was a brilliant innings. Our bowlers tried a couple of plans which didn't work obviously. That innings took the game away (from us). Suryakumar was striking at 200 (strike rate) and he sustained (his SR) till he got his hundred. So that's a special skill that he has achieved. I think he took the game away from us with his batting skills today," praised Sri Lanka's batting coach Naveed Nawaz.
𝓢𝓮𝓷𝓼𝓪𝓽𝓲𝓸𝓷𝓪𝓵 𝓢𝓾𝓻𝔂𝓪 👏👏3⃣rd T20I ton for @surya_14kumar & what an outstanding knock this has been 🧨 🧨#INDvSL… https://t.co/1MVtA7QvKd

— BCCI (@BCCI) 1673104369000
Navaz believes that it is helping batsmen like Surya that they train for hours and days on certain unorthodox shots in the nets, before trying them out in the middle. "It's about answering the questions that the bowlers put on to you. The bowlers these days go out with quite different things like slower balls, wide Yorkers. So as a batter, you have different answers to those questions. So, they go out in the training sessions and try to have answers to the different questions that the bowlers pose them. They train in different ways," he analyzed.
What helps a batsman like him become more lethal is his ability to play the unorthodox shots like the scoop and sweep off the fast bowlers with ridiculous ease. "I think it's about pushing boundaries these days. A lot of the things that current day cricketers do, if we did that 10-15 or 20 years ago…players were told you can't do that, can't do this. But nowadays, with T20 cricket, the players are pushing boundaries. Players are finding ways to score runs-some with orthodox and some with unorthodox ways. All in all, they've been successful in doing that. It's all about finding a way and also sort of pushing the boundaries as things as batters," felt Nawaz, who had coached Bangladesh to the Under-19 World Cup crown in February 2020.