NEW DELHI: India's young left-arm pacer Arshdeep Singh looked dejected and shook his head when he made his way back to the pavillion after
Sri Lanka
posted a mammoth 206/6 in the second T20I in Pune on Thursday. Arshdeep's spell, a costly 37 in two overs, included five no-balls, which made a significant difference to Sri Lanka's final total.
India came close to score 190/8, losing the game by 16 runs.
India put Sri Lanka in to bat first; and after a tight opening over from captain Hardik Pandya, who conceded just two runs, Arshdeep was given the task to bowl from the other end.
The left-armer conceded five runs of his first five deliveries (4,0,0,1,0) but then bowled three back-to-back no-balls and paid the price by getting hit for a four and then a six in the resultant free-hit deliveries.
A total of 19 runs came of Arshdeep's first over.
Skipper Hardik Pandya brought Arshdeep back to bowl again only in the 19th of the Sri Lankan innings. But things didn't change much for Arshdeep. His bad day at the office went on to see him overstep two more times, and 18 runs came off his second over.
India wicketkeeper-batter Dinesh Karthik was prompt to give his opinion on Twitter, saying "You've got to feel for Arshdeep Singh, just lack of match practice. It's never easy".
Arshdeep's childhood coach Jaswant Rai feels he needs to focus on his steps and rhythm to avoid the no-ball hiccups.
"Arshdeep just needs to focus on his steps right now," Rai told TimesofIndia.com in an exclusive interview. He needs to maintain his rhythm. He was not looking in rhythm in the second T20I. The no-ball happened because of lack of practice. We (Arshdeep and I) will discuss this soon. I am sure he will improve on this."
Arshdeep, who returned to the Indian side after being sidelined with an injury, did not have the start he expected.
With five no-balls in a two-over spell, Arshdeep registered an 'unwanted' record — most no-balls in a T20I match by an Indian bowler. His tally of no-balls in T20I cricket now reads 14.
He is also now only the second bowler from an ICC full member nation, after Hamish Rutherford, to bowl five no-balls in a T20I match.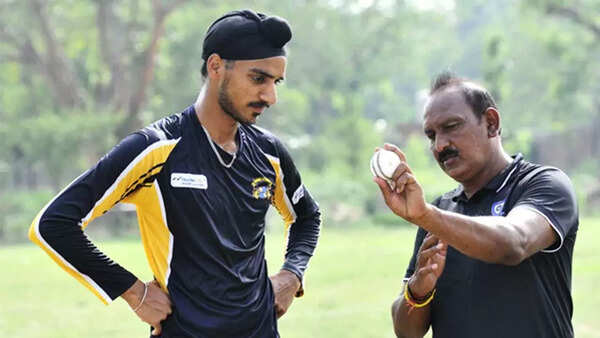 (Arshdeep Singh with childhood coach Jaswant Rai – Photo: TOI arrangement)
"The major and the biggest problem behind a pacer bowling a no-ball is his run-up," Rai continued his assessment during this conversation with Timesofindia.com. "When a bowler marks his run-up, he sometimes loses focus on his steps and bowls a no-ball. To maintain uniformity, a bowler needs to practice a lot in terms of run-up to avoid bowling no-balls. He has to measure the run-up properly before bowling…maintain one rhythm and keep checking whether you are overstepping or not.
"The problem with Arshdeep is that he used to run diagonally and because of that he used to enter the danger zone (in follow-through). He did this on many occasions during the IPL. We sat together and worked on his run-up. He started running perfectly then. But if you start running too straight, then also you are bound to overstep.
"A bowler needs to focus on his run-up, steps, speed, line, length and rhythm all at the same time while bowling. It is tough and takes time but with experience you get used to of it," the coach added.
"Arshdeep should have a run-up like Zaheer (Khan) and Kapil Dev. They were so effective and impressive without mistakes on the field," the coach added.
BOWLING A NO-BALL IN T20s A 'CRIME'
A dejected Pandya, after India's defeat, said: "It's not about blaming but no-ball is a crime".
Jaswant, who is coaching Arshdeep since the age of 13, did second Hardik's thoughts.
"Yes, bowling a no-ball, especially in T20s, is a crime. You have four overs to bowl. You need to control the flow of runs, take wickets; and when you bowl a no-ball, you gift additional runs, you give an extra delivery to the opponent and a free hit too. That free hit will go for a boundary or a six most of the times. And those runs can change the course of the game. That's what happened in Arshdeep's over. I could see the dejection on Arshdeep's face as well as Hardik Pandya's," Rai said.
"We knew how Arshdeep overcame the criticism after that dropped catch against Pakistan. He is a brave and fearless cricketer. He will soon be back to his best," Jaswant signed off.