Eighteen-year-old Abhimanyu Loura has been surrounded by boxing while growing up. He looks up to his father, an international boxer-turned-businessman from Hisar. His aunt is a World Championship bronze medallist. It was never a matter of if, but when, he would pick up the sport and continue his family's tradition in the ring.
And in his first attempt at the senior nationals, Abhimanyu won the gold medal in the 80kg class in his hometown of Hisar – defeating Chandigarh's Sahil by a score of 4-1 on the judges' scorecard. He did so in an Olympic weight category, defeating Ashish Kumar on his way to the title. Kumar was one of India's boxers at the Tokyo Olympics, competing in the 75kg middleweight division, and is attempting to step up as the middleweight category is not a part of the Paris 2024 programme.
"Our house had gloves lying around in every corner. I boxed for 14-15 years and my sister Chhotu Loura was already a bronze medallist at the world level. In other people's houses, you will find children playing with balls but in our house, they would play with gloves. In my time, we used to have gloves with laces. In some parts of the house, you'd find the lace and in some parts, the padding of the gloves. Abhimanyu grew up in such an environment," says his father Bhagat Singh.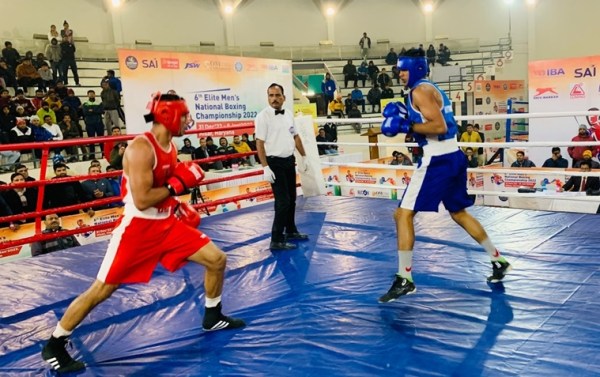 Abhimanyu Loura (blue) in action. (BFI)
Around the age of 12 though, Singh saw his son beating up children in the park near their house. He later found out that it didn't matter whether they were big or small, his son was regularly fighting with other children. In order to instill some discipline, Singh would send Abhimanyu to Mahender Singh Dhaka, a long-time coach in the junior India set-up. The idea was to channelise his son's energy in the direction of their family tradition.
Five years later, Abhimanyu was part of India's squad for the Asian Youth Boxing championships in 2021, winning a bronze medal that could have been turned into a higher medal. But a freak cut meant that the young boxer would have to settle for the third step on the podium in his first major international outing.
Beating the best
At these nationals, not many expected Abhimanyu to do well. But winning gold means that he can now be a part of the national camp and be in line to be selected for the Asian Games – the first qualification competition for the 2024 Paris Olympics. Standing in his way at these nationals was an Olympian himself.
When Abhimanyu found out he was set to face Kumar, he called his father and said, "I have nothing to lose. If I lose, I will lose to an Olympian."
At 6'3, Abhimanyu enjoys a height advantage over most in his weight class nationally. The fight against Kumar was no different. His father and he had decided to stay outside the reach of the Olympian and begin combinations with a left hook, leaving the right for a counter at the end of exchanges.
His long-time coach Dhaka had similar advice. He told Abhimanyu to attack from the moment the referee yelled 'box' and to make sure that the first attack was his. Being at the receiving end would put Kumar under pressure.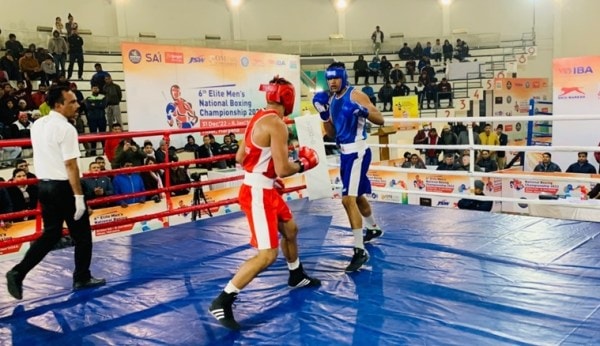 Abhimanyu Loura (blue) in action. (BFI)
The strategy worked and the toughest bout on his way to the gold medal went Abhimanyu's way. But the win came with its worries too. "He was afraid of getting hit in the semi-final and final. He had taken a blow on his chin and it had swollen up. He was looking to fight from far away and resorted to clinching if his opponent got near him. We knew if he followed this strategy, he could win on points alone," Dhaka told The Indian Express.
Despite this win at the nationals, there is still work to be done. In the final against Sahil, the Haryana boxer's weaknesses became apparent. A lack of coordination between his feet and hands, especially when the right hand goes ahead to land a punch, was there to be seen.
Dhaka has a unique way of fixing the issue, apart from training during camps. "Once he gets punched hard a couple of times, he'll rectify the stance himself. He hasn't met anyone that lands a good uppercut. When that happens, he'll know that his stance puts him in a poor position to deal with that shot and he'll fix the issue."