Shreyas Iyer
talks to TOI about coping with criticism, honing his skills & how he and
Ashwin
steered India to safety in Mirpur…
Unlike most cricket fans who were navigating through insane Mumbai traffic enroute to the Wankhede to watch the thrilling first T20I between India and Sri Lanka on Tuesday, India's most consistent ODI batter from last year, and the hero of the Test win in Mirpur in December along with R Ashwin, Shreyas Iyer, was busy finding a cricket ground to practise.
After an exhausting net session and an arduous drive back to his residence in Parel, Iyer caught up with TOI for a freewheeling chat.
Excerpts from an interview:
It feels strange that there is an international match happening in Mumbai today and one of India's young white-ball stars is not featuring in it?
It does not feel strange to me, honestly. We have just returned from an exhausting series and a lot of people who played in the Tests in Bangladesh are not there in the T20I team for Sri Lanka. I've been on the run for long and wanted to take some rest and cherish the victory with family and friends. I'm glad to get the opportunity to do it and celebrate New Year's Eve. Now, I am preparing for the ODIS.
With the
Ranji Trophy
match between Mumbai and TN happening at the Brabourne and the T20I game happening at Wankhede, you were forced to train in Thane…
Yeah (laughs). There was no other ground to practise. We had some bowlers there. The wicket was not that great, but at least I got a chance to bat.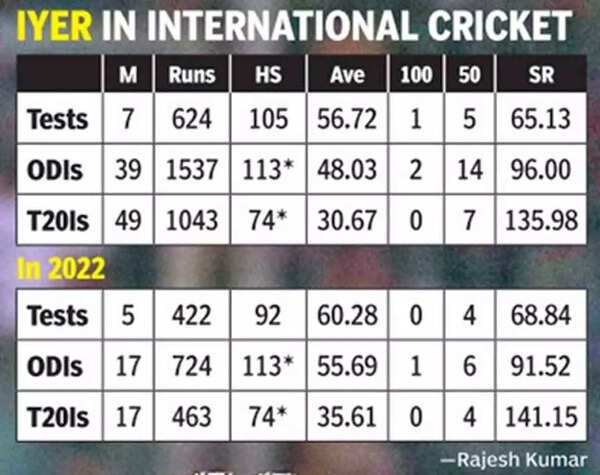 We are still high on what happened in Mirpur on Christmas Day? Tell us what transpired between you and Ashwin once he walked in?
I was already there, but when I saw Axar getting out, I was dejected. I realized how tough things will be. I saw Ashwin walk in with confidence and he came and gave me a fist bump, and said, "We'll do it, Machi. don't worry. I always love Ashwin's confidence. Whenever he comes in, he starts off with a bang. The first ball he faces, it's from the middle of his bat. From the other end, you derive confidence from his approach. He is so experienced and is one of the best readers of the game. We have also batted a lot together in the IPL for Delhi Capitals. There was a game against Mumbai Indians in Sharjah where we were in trouble and he came in and started off confidently.
Ashwin on his YouTube channel said that you advised him to defend with intent after Mominul dropped him at short leg. Why did you say that?
When you defend with intent, your bat just plays the stroke seeing the length of the ball. In Mirpur, they had kept the field deep and once you defend with intent, the singles become available.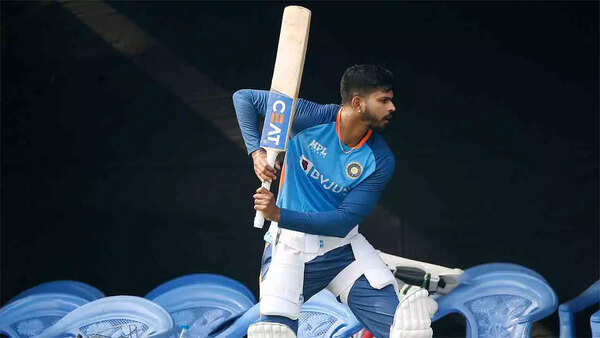 Shreyas Iyer. (AP Photo)
Have you batted as low as No.8 before?
Never. I batted at No.7 on my Ranji debut. Never lower than that. I didn't know I was going to bat at No.8, but it worked out. I just wanted to go out and bat and did not think about the position. I just have one aim, to win the game for the team.
Was it the most challenging pitch you batted on so far in your international career? The pitch in Bengaluru also was quite a challenging one for the pink ball Test vs Sri Lanka last year, wasn't it?
Bengaluru pitch was tougher than this, I felt. Mirpur was challenging because of the variable bounce. We don't get to play on such pitches everywhere. In Bengaluru, the ball was spinning sharply, and the pitch had bounce. I felt because the Bangladesh bowlers knew how to use the conditions in Mirpur, they made it challenging for us. They also used the straighter ball well.
You have so far batted well at No.6? It's a tricky spot as you must play the second new ball and guide the lower order. Your approach to batting in that spot? Hog the strike or trust the lower order by taking a single like Laxman used to do?
I know that I have players like R Ashwin and Axar Patel behind me. Both of them play spin and pace well. I never thought of them as tailenders. They are considered as all-rounders in the team. Yes, six is a challenging position, but I love challenges as I thrive under them. But six is also a decent position to bat because you get time to assess the wicket and the bowling and ground conditions.
Want to dwell on your ODI scores in 2022? The consistency has been amazing. What did you unlock last year in that format that was may be missing in the earlier years?
I was just trying to focus on the situation rather than the technique, grip, stance and what is going on between the ears (gestures). I just focused on the bowler and what is he going to bowl. That is how I was trying to synchronize my rhythm and my initial movement. After that, I was just reacting to the ball. After that, it's just about execution of all the hard work you have done. I believe I unlocked this. I also realized, that if I can give myself a little more time before I charge at a bowler, and get set, then I can just rotate the strike. I also realized the value of taking singles. Boundaries will follow. As a batsman, you usually think, 4, 3, 2, 1.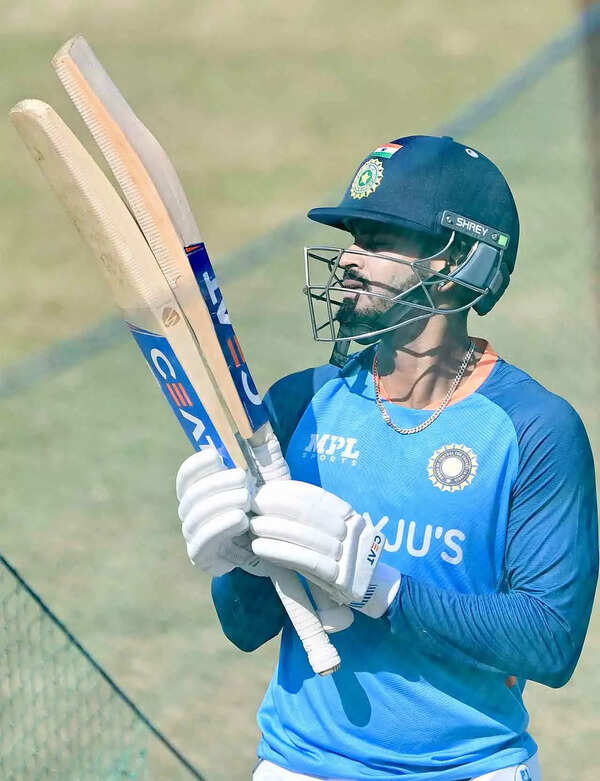 Shreyas Iyer. (AFP Photo)
Is the Shreyas Iyer post the shoulder injury calmer and wiser?
It's not just post the shoulder injury. Just with passage of time, you mature a lot and learn about your game. You also learn from watching how others are reading the game. I like to put myself in uncomfortable situations and unfamiliar situations and want to contribute in all departments and that is why I am bowling a lot more in the nets.
Once Hardik and Jadeja get back, you know that they will be occupying the No.6 or No.7 spots in ODIs. Considering that Ishan and Rohit open, Kohli bats at No.3, you really are in a race for two spots for the WC isn't it with Surya, Sanju and Rahul. One of the three will be missing out?
I don't know. I don't really care about it. I like to do my things right. I like to stick to my routines and processes. These talks have been going for years. It's something the media is bringing out. It's not there in my mind. My goal is to win the world Cup and play knocks that help the team win games. Selection is not in my hands.
Your game against spin is hailed as the best in India? Does that come because of many years of four-Day cricket for Mumbai on wearing pitches? You had scored more than 4000 runs in Ranji Trophy before playing for India.
I give a lot of credit for that to domestic cricket as we played a lot on spinning tracks at venues like the BKC and Chepauk. It gives you confidence when you score in domestic cricket against spinners on worn out pitches. At some point, I was able to dominate them which gives you confidence. I try and do the same in international cricket too. Put them under pressure.
You really had to wait for your chances, Shreyas. What do you do when you are out of the playing XI for marquee events and matches (two T20 WCs as a reserve player) and what do you tell the other players with the Indian team set up currently and are struggling to get a break. How should they stay motivated?
I tell myself that it's not the end of the world. You will get many chances. You also must realize that there will be opportunities to succeed in things even outside international cricket. Playing domestic cricket is a great way to share your experiences with other players and try and help them if you can. When I didn't make the cut for the World Cup, it gave me a chance to work on myself, help Mumbai win the Syed Mushtaq Ali Trophy and keep playing and keep learning. Yes, it is disappointing to miss out on playing ICC events, but I am someone who likes to learn from setbacks and failures.
You know that there is talk about the short ball troubling you and we saw that in the Edgbaston Test vs England. How have you worked on it since to overcome the issue?
Talking about the first innings at Edgbaston, it was a terrific delivery (off James Anderson) and it seamed after pitching and swung in the air. Any player would have got out to that one. In the second innings (off Matthew Potts), I tried to play the pull and was caught. In my mind, I never thought I struggled. About the noise that has been created outside, I like to turn a deaf ear to it and keep things simple. I love the line ignorance is bliss. That's what I do.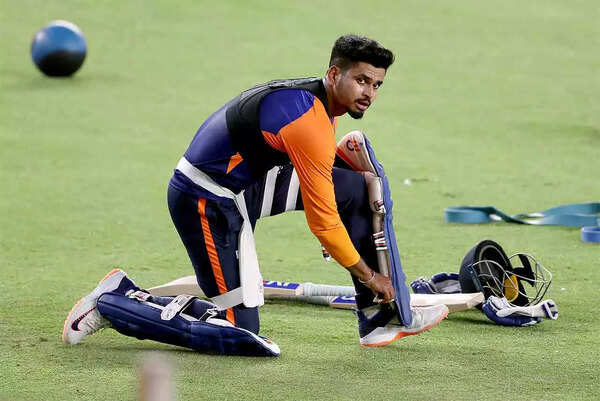 Shreyas Iyer. (Photo by Surjeet Yadav/Getty Images)
When did you learn of Rishabh's car accident?
I got a message from friends and was devastated. Especially when I saw the pictures. I am just glad that he is safe now. I just hope he recovers fast so that I can play with him soon.
We see you are wearing a Chelsea shirt…
I love Chelsea. I hope to see a game live. Hopefully, it will be a Champions League final against Manchester United with Chelsea winning.
That will make for an interesting dressing room. It is believed that many Indian players support Man U.
Yes, many do, without even knowing the names of some players (laughs).
Who is your favourite Chelsea footballer?
N'Golo Kante.
Are you a targets person. Before a series, do you put a number in your mind saying I need to score these many runs?
I don't put a number saying these are the number of runs I want to get. I just say I want to be man of the series and leave it there.
You have won a few of them already.
And there were a few that I wasn't given too. (Laughs)