Rahul Tripathi makes his T20 debut for India in the second game of the three-match T20 series against Sri Lanka in Pune. Here is an article, first published in 2017, that details his remarkable journey from minefields in Srinagar in Kashmir to now playing for India. 
"Achha beta, aaj se tera cricket phir se shuru." It's September 20, 2003 and Colonel Ajay Tripathi and his family have just finished lunch having moved to Pune from Srinagar earlier in the day. Tripathi had spent the last three-and-a-half years laying and clearing mines at the Indo-Pak border in Kashmir as part of Operation Parakram. When India mobilized forces on the frontline in the aftermath of the 2001 Parliament attack, and later scaled back, the colonel who undertook the dangerous job of removing mines, recalls coming within 24 hours of going to war.
For his kids in Srinagar, Rahul and Rupali, it meant being hauled up indoors in what the senior Tripathi describes as an "open jail" with the booming sound of guns constantly going off around them. Even the few trips outside the cantonment area were made in the company of a convoy. Rahul had been a promising young cricketer of 10, when the Tripathis were in Lucknow. But stuck here, surrounded by incessant snow, he had been forced to take a complete break from the sport that he was obsessed with.
Congratulations to Rahul Tripathi who is all set to make his T20I debut for #TeamIndia 🇮🇳👏#INDvSL @mastercardindia pic.twitter.com/VX1y83nOsD

— BCCI (@BCCI) January 5, 2023
So when they finally moved back to slightly more pleasant climes in Pune the first thing on the senior Tripathi's mind was to restart his son's interrupted cricket career.
"He was such a good cricketer even as a kid that the coaches in Lucknow had asked me to leave him back there, saying he'll rise through the ranks along with Suresh Raina. My kids had sacrificed three-and-a-half years of their lives for me. Now it was time to make their sporting dreams come true. So as soon as lunch finished, I said 'let's go'," he recalls now. No wonder then that the colonel remembers the exact date when Rahul walked through the gates of Pune's Deccan Gymkhana for the first time.
Incidentally, father and son spent most of the day gallivanting around Pune in search of any coaching camp that would accept the talented teenager. And they would chance upon the club that would become the junior Tripathi's cricketing alma mater and propel him towards first-class cricket and eventually a starry stint in the IPL.
Tripathi isn't your stereotypical IPL star, the kind that emerges from near obscurity every year. The 26-year-old was a run-machine in junior cricket—scoring three back-to-back centuries at the U-19 level before winning the BCCI award for best U-25 cricketer in 2014—and has been trying to establish himself in the Maharashtra Ranji line-up since 2012. It's the time lost in Srinagar that the colonel believes is the reason for his son being a late-bloomer and not a prodigy, something that he's always felt a tad guilty about.
📸📸 Dream come true moment for @tripathirahul52 🙌🙌#TeamIndia #INDvSL @mastercardindia pic.twitter.com/igiWnQEEIR

— BCCI (@BCCI) January 5, 2023
"It delayed his development and pushed it back even. He was out of touch with cricket when he started again in Pune but it's amazing how he's caught up," says Rupali, who is five years younger and a national-level basketball player representing Maharashtra. But in Srinagar, there was also the over-riding fear regarding their father's well-being. Around 100 Indian soldiers lost their lives in mine-laying operations during Parakram.
"It's part and parcel for a fauji though. Humne toh war kar bhi li Pakistan se. Minefield bichha bhi li, minefield nikaal bhi li. We used to come back in a bus, being attacked from both sides and we'd be sitting bent on the seats," says the senior Tripathi, who was a sapper during Parakram.
The Tripathis are an extremely close-knit family. The mother, Saroj, fusses over her son's vegetarian diet—packing protein laddoos for him even now when he visits home during the IPL. Rupali is a doting sister who "wants to be everything her bhaiya is" while raving about her "shy" brother's penchant for peppy music and his impressive dance moves. The colonel was a cricketer himself in his youth and even made it to the Uttar Pradesh under-22 side in the early 80s as a wicket-keeper batsman. And it didn't take him long to realize that his son was going the same way.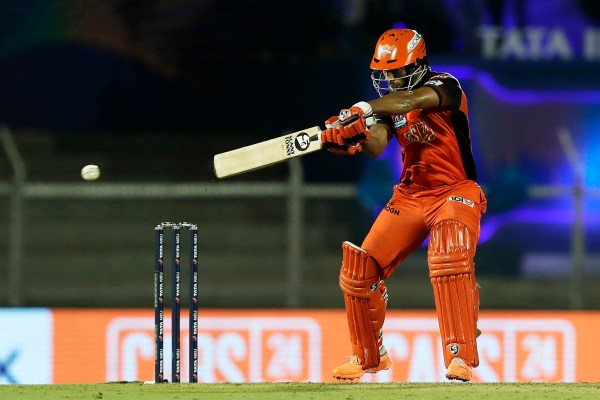 Rahul Tripathi of the Sunrisers Hyderabad bats during the Indian Premier League 2022 match between Sunrisers Hyderabad and Kolkata Knight Riders, at the Brabourne Stadium, in Mumbai, Friday, April 15, 2022. (Sportzpics/PTI Photo)
Rupali remembers her brother attempting to turn any object that came his way into cricketing apparatus, be it crockery or even food. She recalls a litti chokka party that her grandfather took the kids to once, in particular.
"We got there and bhaiyya started tossing around and playing with the littis (whole wheat dough balls) thinking they were balls. He then told nanaji, 'what party have you brought us to? There is no food, only balls to play with'," she says laughing.
And every visitor to the Tripathi household, regardless of age, would invariably be roped into some cricketing contest or the other by the future Rising Pune Supergiant dynamo.
Tripathi regained lost time rather rapidly in Pune's local circuit and was soon knocking on the doors of Maharashtra's age-group teams. But there was a problem.
He was also brilliant at academics, mathematics in particular, with his father proudly insisting that the lowest score he ever recorded there was 98. So when he nearly topped his school during his 10th standard board exams, the Tripathi family got into a huddle with the coaches at Deccan Gymkhana to decide upon their son's future.
"He used to study for a month and still score perfect marks. His mother was keen on him picking studies. I didn't want him to compromise on sport, so we decided to give his cricket two more years before taking a final call," the colonel, who's posted at Gandhidham presently, reveals.
His run-scoring prowess from that point on—though he did also get himself a BSc in Math degree—put an end to the debate, but somehow the major breakthrough kept evading him. In 2008, the senior Tripathi even organized a trial for Rahul in Hyderabad with the Andhra Pradesh team at the Jaisimha Academy ground. There he bowled and batted for 20 minutes each to the Andhra Ranji team, and nearly earned himself a contract with them. A string of big scores upon his return to Pune though convinced the Maharashtra selectors that he was here to stay.
For a major part of his junior career, his early coaches knew him as a dogged accumulator of runs more suited for the four-day format.
"Now, we've had to install new covering nets all around the Gymkhana ground because Rahul comes here for practice whenever there's a break during the IPL and he smashes at least 7-8 balls on to the road, putting pedestrians outside in peril," says Hemant Athle, who's seen Tripathi rise through the ranks from that day 14 years ago the colonel brought him over. Athle also insists that despite being a 'Tripathi' Rahul is very much a Punekar, especially when he decides to speak in Marathi.
The Tripathis are just getting used to being local celebrities. "We still have curfews," she says laughing, "Bhaiya does go to official IPL parties but he still generally reports back to dad whenever he gets back."