Serendipity played its bit part – with other doubles partners fading out. But mostly, the friendship sufficed. Sriram Balaji and Jeevan Neduncheziyan knew each other since they were 12 and 14 – each winning Chennai's mini tennis talent hunts, in u12 and u14, a competition that a famous shoe brand used to put together. They are 32 and 34 now, with a double-decade rapport intact.
Another warm winter 10 Januaries ago in Chennai, they had their first-ever wildcard for that ATP event, though they would lose early in 2012. This week though, making the Pune ATP 250 main draw as alternates, the duo did well to sideline second-seeded Americans Nathaniel Lammons and Jackson Withrow to end up as the last Indians standing in any sort of contention – albeit in doubles.
The entirety of the match had just one break point as every one of the four on the court served well. It ended with the Indians keeping their nerve on crucial points to win 7-6 (8-6), 7-6 (7-5), making the semis where they will meet the Brits, Julian Cash and Henry Patten, who in red-hot form and are sort of legendary on the Challenger circuit (where they had 10 wins) for cruising on the Tour with equal panache and success in the subsequent season.
Jeevan has had a fair amount of success alongside Rohan Bopanna and later Vishnu Vardhan. But it is his childhood buddy, the immensely skilled Balaji, known for his short tapping wristy forecourt slamdunk kills, with whom Jeevan would aim to make the finals.
"We've been good friends since school, there's a lot of respect for each other, and between families too. We stick together in bad times to make the good moments happen. It's fantastic to play with him," Jeevan says. The two followed divergent paths – Jeevan played Collegiate in the States. Balaji got into the Army on sports quota with the Madras Engineering Group, and given how talented he was, proceeded to train for singles in Germany. It was only last April when they reconnected, and Covid cemented their partnership ("It gave me perspective. I was happy to be able to just play tennis after not playing for an entire year," Jeevan said).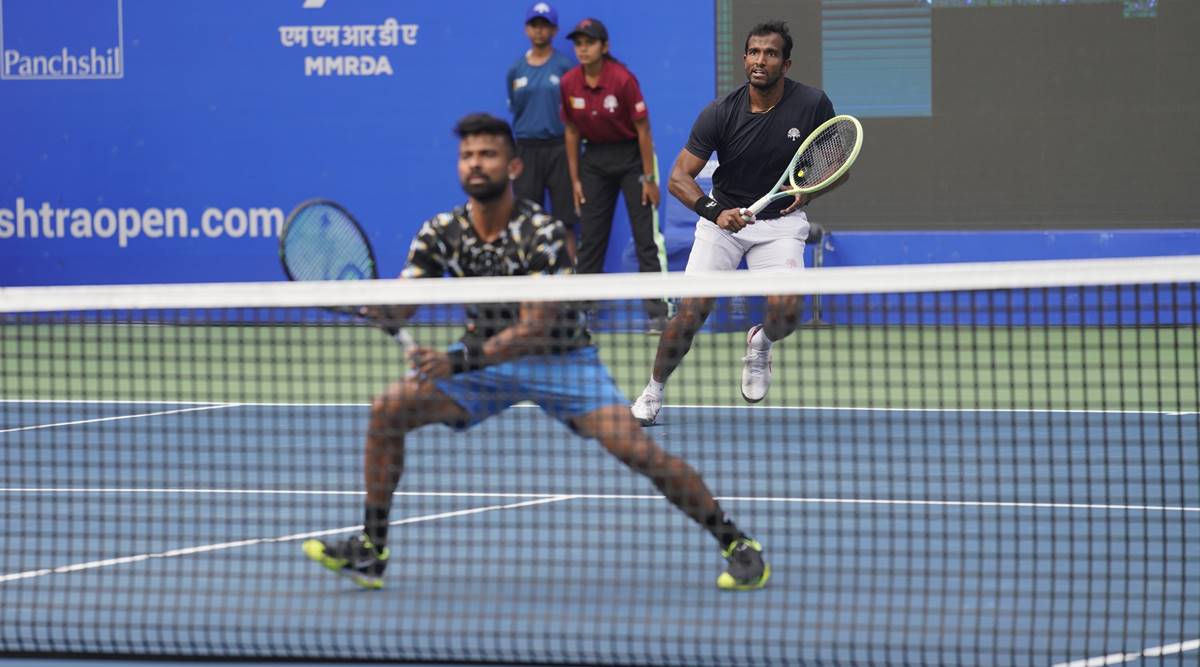 N. Sriram Balaji (R) and Jeevan Nedunchezhiyan in action during the doubles quarter-finals at the 5th Tata Open Maharashtra in Pune.
Balaji was super professional as they started rebuilding their careers after earlier partnerships ended. "It's always tough to change long-term partnerships and play with a new partner every week," Balaji said. The protected ranking had made climbing the ladder rather difficult. "But we stayed strong, knocking doors," Jeevan recalls. Balaji is expected to turn out for the inter Services one or two weeks in the year, otherwise, he trains like a proper pro through the year, and there's a whiff of a Grand Slam dream, now that things are falling in place with Jeevan. "Because it's like working towards something – a goal."
The Indians might've played one of the best clinical matches of all the local doubles pairings, eschewing any fancy artistry, staying patient, reading opponents and their reflex patterns, to neatly exploit that knowledge in tie-breaks. Jeevan of course was returning well, and Balaji has always had intuitive court movement to find the bisecting angles.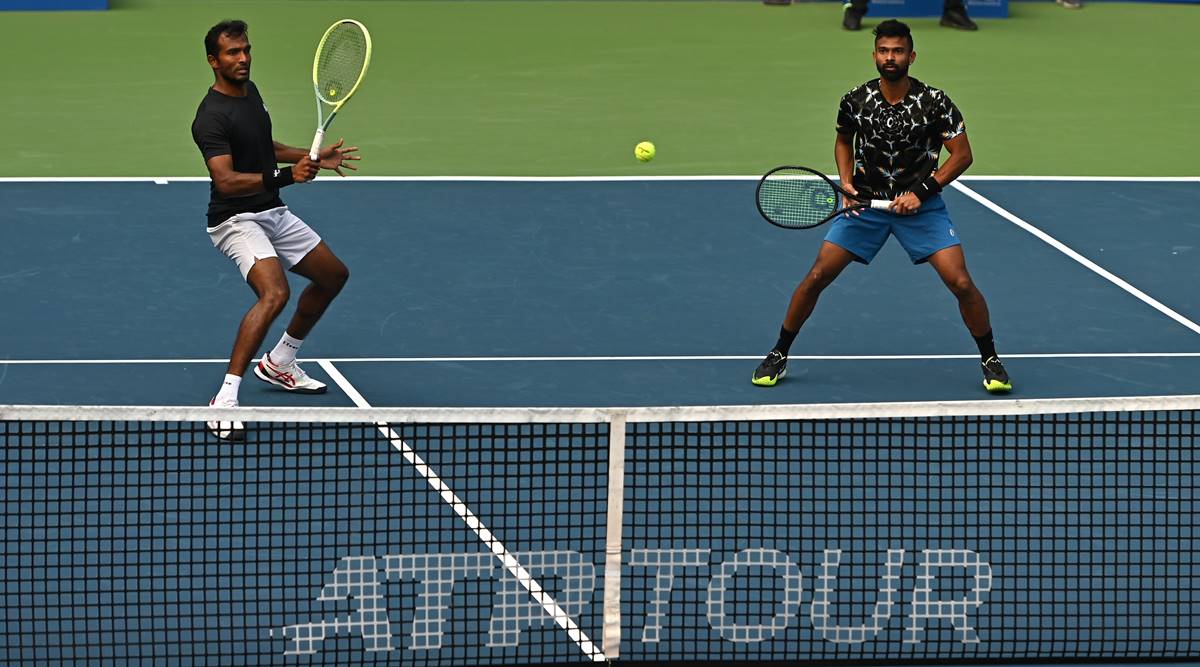 N. Sriram Balaji (R) returns as Jeevan Nedunchezhiyan looks on during the doubles quarter-finals at the 5th Tata Open Maharashtra in Pune
Repetitions from the recent doubles camp in Dubai where they learnt a lot about positional play were yielding results. The ball was flying, given Pune's altitude, and with all serves to stay compact, the Indians did well to put the American second seeds, ranked in the 40s, under the pump at precise moments.
Jeevan followed Pat Rafter and Lleyton Hewitt in his young days. "The ponytail and serve and volley. Plus Hewitt was athletic, not the biggest guy but strong on fitness. I loved his mindset," he says. He would bring his own agility into play, as the match veered into tie-breaks twice, teasing out some winning threading angles.
A bluntly honest conversation at the University of Washington, where Jeevan played in the NCAA, had sorted out his priorities. "In grad year, I remember asking the coach on the last day 'hey man, how high can I go in doubles?' I told him don't sugarcoat. He said Top 200 in singles and Top 50 in doubles. Of course, everyone grows up wanting to play singles at Grand Slams. But I was hovering in Top 300 when I decided to switch," he recalls. Bopanna would promise him he'd play an ATP with him if he cracked 150. "And he kept his word." Then in Chennai on 2016 New Year's, Jeevan would crack the Top 100 exact, and dial Bopanna, who was on vacation in Colombo. "He stuck to his word again, and we know how that tournament went." They won.
Balaji would trundle along two years later. Though Covid fortified their partnership for keepsakes. "The best thing about Jeevan is he's a great planner," Balaji says. Jeevan adds: "Bala is one of the most trustworthy people, that's the best thing about him." On their peeves, Balaji wants Jeevan to change his phone once and for all. Jeevan: "He's a dad now. So he never sleeps. At home, he's a full-time dad. So when playing he's half asleep all the time. That's irritating, but I understand," Jeevan jokes.
Sleepy or not, the two have wound up in the semis after a superb match which got shifted to the Centre court at the last sudden instance. Friends for 20 years they revelled in the atmosphere, and played with supreme assuredness. It's the high-flying Brits next. The strategies will be laid out, but friendship should suffice when things get tough.