The world around Axar Patel and Suryakumar Yadav was a mad scramble. Fielders rattling endlessly in their sing-song tone; spectators screeching in frustration in the gallery, some hurriedly filing out; their colleagues, one after the other, losing their heads; the gazes from the dugout wandering aimlessly, as though the embers of hope were flickering out, as though each stride and step was taking them closer to the edge of the cliff.
But the pair was immune to all the fatalism and pessimism around them. They saw hope when there was none to be found; they found life when no traces were visible. Together, they completed a near-impossible act, only to fall short at the final hurdle. That India eventually lost, by 16 runs to a tenacious and skilled Sri Lanka, the Asian T20 champions, should not take the gloss off their comeback, or the resourcefulness of Patel's underestimated batting.
All hopes seemed lost when Patel joined Yadav in the middle after the departure of Deepak Hooda. At 57/5 in 9.1 overs, it seemed a task beyond even the super-human prowess of Yadav. In 65 balls, India required 149 runs.
Yadav couldn't do this alone, he perhaps required his clone batting from the other end as well. Patel is no clone of Yadav; he is quite the opposite. Yadav is all wrists and hands, grace and inventiveness. Patel is old-fashioned, reliant more on the reach of his limbs and the power he generates from the bat-swing. The contrast of styles made their partnership all the more appealing, and both are bound by an explosiveness that makes them so valuable.
Patel's big-hitting skills are not undiscovered, but seldom have they blazed as brightly as they did in Pune. He has a neat, clean back-swing, holds his balance and shape whenever he plays the big strokes, and makes optimal use of his long limbs to reach the pitch of the ball. He is not too muscled a batsman but generates wondrous power with his bat-swing.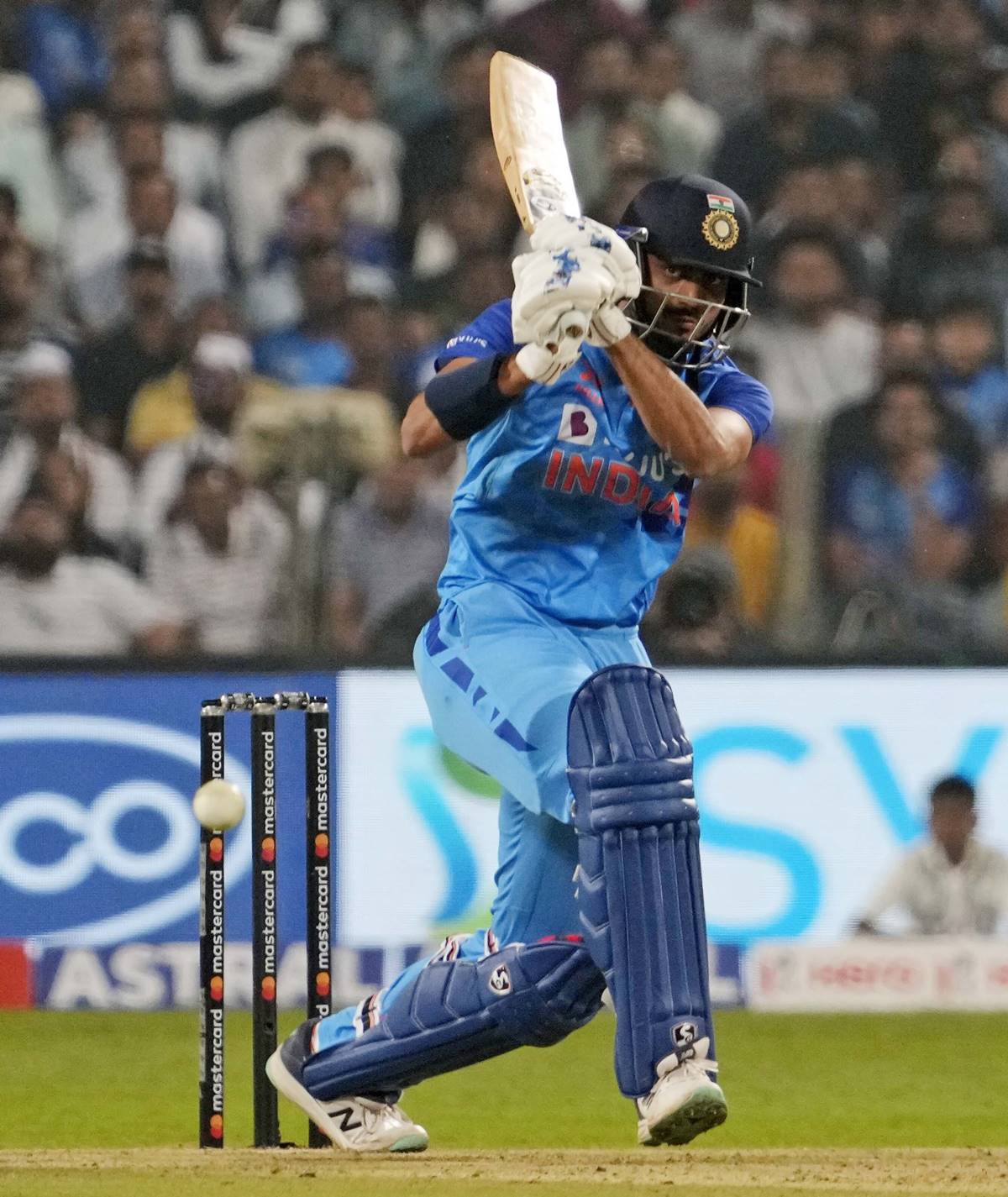 India's Axar Patel bats during the second Twenty20 cricket match between India and Sri Lanka in Pune, India, Thursday, Jan. 5, 2023. ( AP Photo/Rajanish Kakade )
He chose Sri Lanka's finest bowler, Wanindu Hasaranga, to display his batting prowess. It was only the fifth ball he had faced in the innings, his team tottering at 58/4 in 9.4 overs, but dismissively swept it over mid-wicket.
It was a stroke that Patel would repeat and made Hasaranga wince and sneer. In the 14th over, he swept him twice over the ropes, the first, a semi-classical sweep, between deep midwicket and fine-leg and the next, a murderous slog-sweep soaring over midwicket. The third ball was creamed down the ground.
The target was still steep — 91 required off 39 balls — but hope suddenly floated. In the next 14 balls, until Yadav perished, India teared back into the game, racking up 33 runs, to whittle down the target to 58 off 24.
Fighting till the end
Even after Yadav trudged dejectedly into the dugout, India clutched onto hope. Shivam Mavi, whose four overs had cost 53 runs earlier in the evening, creamed 16 runs off the last three balls of Dilshan Madushanka's 18th over to keep the run-chase motoring along, though the finish line was distant. Twelve runs were eked out of the penultimate over, as another thrilling end lurked, with India needing 21.
But Patel's night was to end on a tragic-heroic note at the hands of Dasun Shanaka, who just an hour ago had pummelled the fastest half-century by a Sri Lankan in this format. His 20-run pillage of Mavi in the final over made the decisive difference in the end.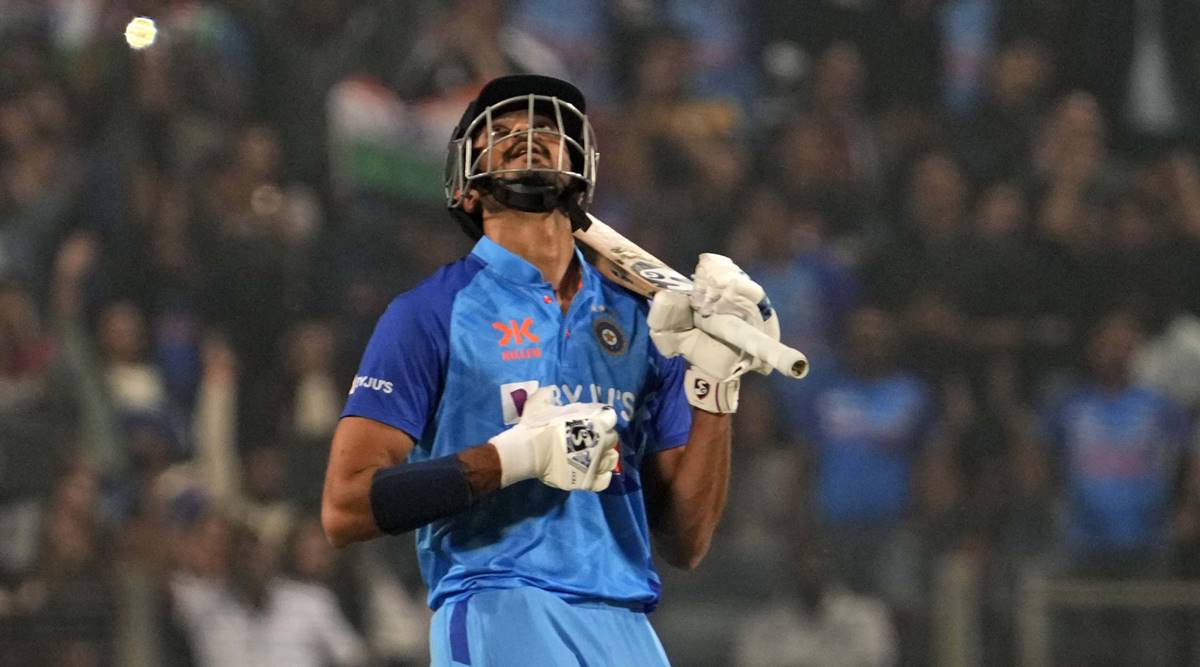 India's Axar Patel celebrates scoring fifty runs during the second Twenty20 cricket match between India and Sri Lanka in Pune, India, Thursday, Jan. 5, 2023. ( AP Photo/Rajanish Kakade )
Patel, though, would wonder how he contrived to hit a thigh-high full-toss straight into a fielder's hands. Maybe he was tired, maybe it was nerves, maybe it was the fickleness of the format. Another night, it could have been Shanaka walking with the defeated eyes of a tragic hero. Such are the fine margins in this game.
It was the near-perfect night for Patel. He was India's best batsman— did one spot a blossoming finisher in him?— and the thriftiest bowler. On a day when the phalanx of seamers underwhelmed, when they leaked 151 runs in 12 overs, when their callowness showed, Patel pulled India back into the game with four overs that cost only 24 runs and bargained two wickets.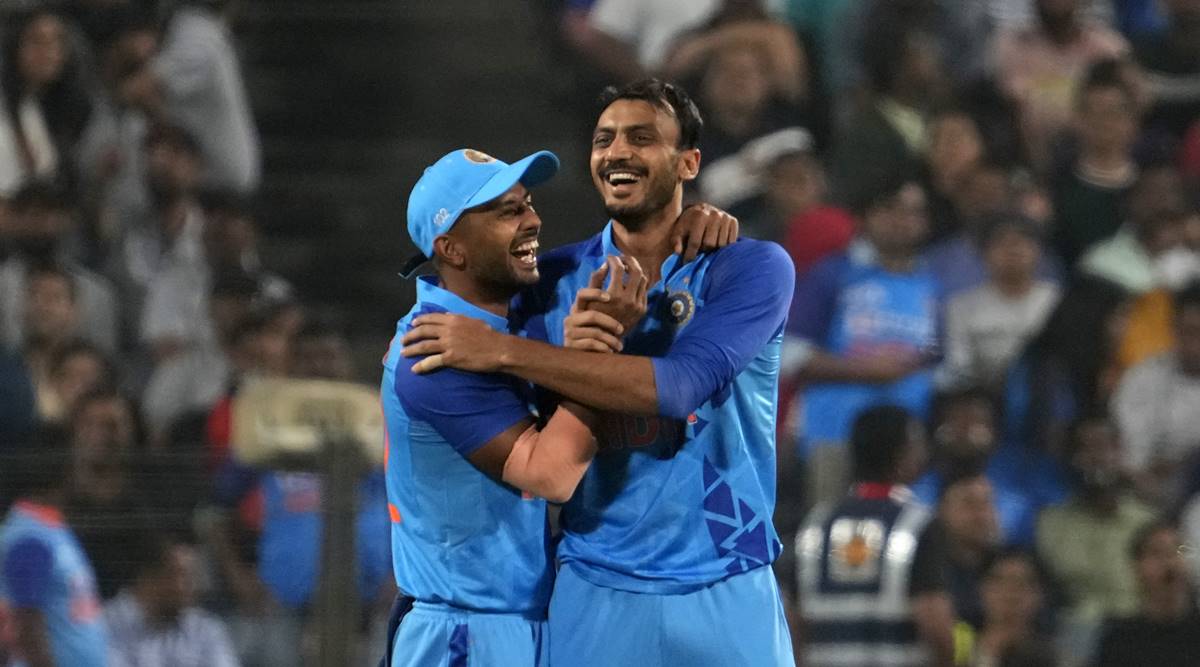 India's Axar Patel, right, celebrates after the dismissal of Sri Lanka's Dhananjaya de Silva during the second Twenty20 cricket match between India and Sri Lanka in Pune, India, Thursday, Jan. 5, 2023. ( AP Photo/Rajanish Kakade )
His first over was remarkable. When he measured his run-up, the scoreboard read 47 for 0 in four overs. Kusal Mendis was on a rampage, Pathum Nissanka was looking to unshackle. But Patel applied the brakes on the scoring. There was nothing remarkable or unknown in the way he did it. He would skid the ball into the right-handers, modulate his pace and mix his length. He was neither pull-able nor sweep-able. Consequently, he conceded just a boundary and a six. Together with Yuzvendra Chahal, they arrested Sri Lanka's vaulting progress before the Shanaka carnage.
The Indian fast bowlers endured a chastening day. From the peak of Mumbai, the descent into chaos was swift. Their 15 overs in Mumbai conceded 102 runs; here, their 12 were ransacked for 151, that is without discounting Hardik Pandya's splendid two-over burst with the new ball, an out-swing barrage of the highest quality. Mavi's four overs went for 53 runs, though one saw the virtues of a tearaway in the wickets of Charith Asalanka and Wanindu Hasaranga off successive ball to impede Sri Lanka's momentum; Arshdeep Singh was horrific (37 off two) and Umran Malik scattergun (48/3 off four). Such nights would occasionally wink under T20 skies, where Axar Patel's name was written as a tragic hero.