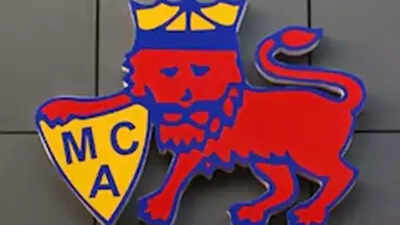 Mumbai Cricket Association logo
MUMBAI: For the first time in its history, the Mumbai Cricket Association (MCA) is looking for a sponsor for the Dr HD Kanga League, its traditional monsoon tournament since 1948.
The Kanga League, which couldn't be held in the last two years due to Covid-19, is set to kick off on July 31 this time. As has been the norm, it will signal the start of Mumbai's local cricket season.
"The MCA invites expression of interest for Sponsorship of the 75th year of Dr HD Kanga Cricket League," MCA secretaries Sanjay Naik and Shahalam Shaikh mentioned on the association's website on Wednesday.
Speaking about the MCA's novel move, Naik told TOI: "Our marketing and tournament committee felt that we should have a sponsor for the Kanga League, so that the tournament is boosted, and the expenses of staging it are taken care of.
"The sponsorship money can be used to provide the right infrastructure, like mobile medical assistance, to the players for the Kanga League. We're trying to ensure something that would benefit the MCA and our players, affiliated clubs, scorers and umpires."
In 2008, a private firm had sponsored the Kanga League, but out of its own initiative.
FOLLOW US ON SOCIAL MEDIA
FacebookTwitterInstagramKOO APPYOUTUBE