NEW DELHI: The chorus of voices asking for
Virat Kohli
to be possibly dropped from the Indian T20 team, with the T20 World Cup around the corner, has been slowly getting louder over the last few weeks. It is something that was unfathomable even a few months ago. The current Team India policy to rest players frequently as per their workload management ethos is also under the scanner.
Kohli, India's modern day run machine, with 23,693 international runs across formats at a 53.72 career average is the only batter with a 50-plus career average among the top run-getters in the world. Even the great Sachin Tendulkar, who tops the overall list of international runs with 34,357 runs, had a career average of 48.52. Kohli also has already scored a whopping 70 international hundreds (43 in ODIs & 27 in Tests) and he did that by 2019. He is third only behind Ricky Ponting (71) and Tendulkar (100) on the overall most international centuries list, before the ongoing lean run began at the turn of the new decade. For a long time he averaged over 50 across all three formats – a feat which spoke volumes about just how prolific the former India captain has been over the years. Even now, Virat averages above 50 in ODIs and T20Is.
But since great players are judged more harshly when they go through dry spells thanks to how high they set the bar themselves, Virat has found himself in the eye of a storm of criticism. Keeping one spot in the playing XI reserved, while talented youngsters are regularly doing well when given a chance, is something that cannot be justified for very long.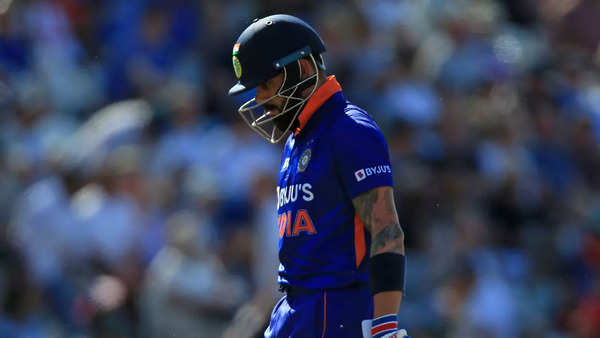 (AFP Photo)
Amidst this prolonged dry spell, former World Cup winning India captain Kapil Dev joined the critics, who are calling for Kohli's head, to express that Kohli is no longer indispensable in T20Is, adding that Kohli is currently looking like a shadow of his old self. This even prompted current India skipper Rohit Sharma to openly back Kohli, saying the star batter's quality can't be questioned.
His frequent rest from bilateral series, like the recently concluded T20I series against Ireland and the upcoming West Indies ODIs, has also given ammunition to the critics, who are questioning the logic behind it. And the good form of players like Suryakumar Yadav, Deepak Hooda etc has also put pressure on Kohli's position in the starting XI of the T20 team, especially with a T20 World Cup coming up.
Kohli's failure to add another hundred to his 70 centuries list since November 2019 has been one of the most keenly debated hot topics of the cricketing world in the last one year or so. But that's not the only negative point in this prolonged drought for Kohli. His overall career record has been dented quite heavily by what are below par performances, vis a vis the high standards he set for himself, since the beginning of 2020.
For example, Kohli's batting average in Tests since 2020 (27.25) is less than half of his average at the end of 2019 (59.84) and it has dragged down his overall career Test figures below 50.
Here Timesofindia.com dives into Kohli's batting records for a quick comparison– before the lean patch and during the two and half years' barren run, to check how much his overall career stats across formats have been impacted and to check how much the call to axe him from the India T20 squad is backed by data.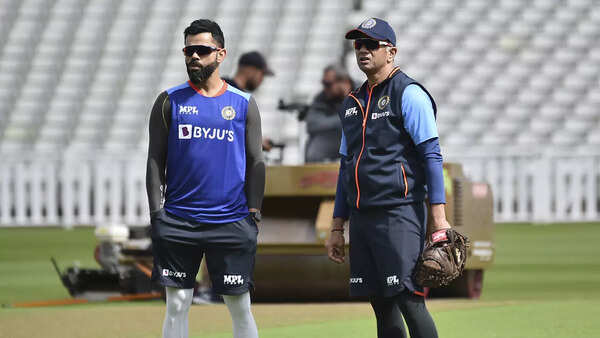 (Virat Kohli and India coach Rahul Dravid – AP Photo)
Tests record suffered the most
The biggest slump in Kohli's form is in the format which he loves the most – Test cricket. It all began in the year 2020, which was the worst for Kohli in the longest format of the game as he managed to score his runs at a meagre average of 19.33 in six innings.
Since the beginning of 2020, Kohli had endured arguably his toughest phase as a Test batter. It's not just that the hundreds have eluded the Indian run-machine, his overall performance has literally nosedived.
At the end of 2019, the then India captain was at the peak of his career, scoring 7202 runs in 84 Tests at a career average of 54.97. This included 27 hundreds, the last of which was scored in November 2019, and 28 fifties.
But since 2020, Virat has played 18 Tests and managed to score just 872 runs @27.25 with six half-centuries. His batting average dropped by a whopping 27.72 points in the last two and half years. And it has dragged down his career average to 49.53, below 50, after a long time.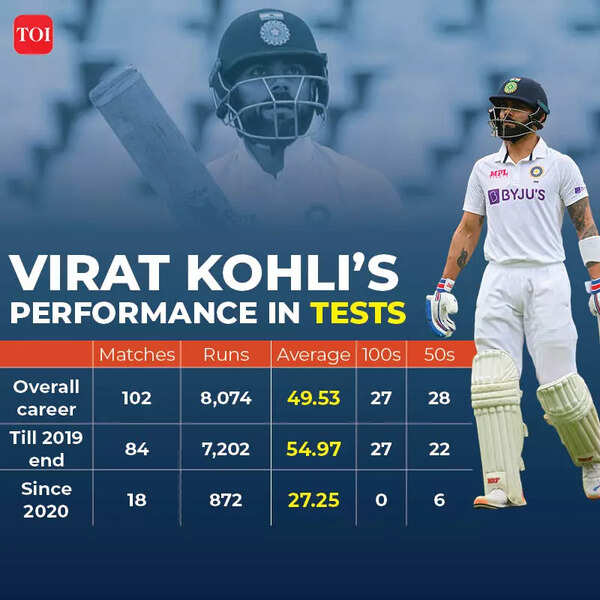 Sachin's ODI records look out of reach currently for Virat
For many years, Kohli was looked upon as the batter who can break the colossal ODI records set by Tendulkar. And the way he was progressing, the records were within his grasp before his runs dried up at the turn of the decade.
Till 2019, Kohli was scoring runs in ODIs at a phenomenal average of almost 60, accumulating 11,609 runs @59.84 in 242 matches with the help of 43 hundreds and 55 fifties.
Like in Tests, Kohli's form in ODIs also went downhill in the last two and half years. Since 2020, Kohli has played 18 ODIs and added 702 more runs to take his overall tally to 12,311 runs. But his runs during this period came at a below par 39.00 average, according to his own lofty standards.
A drop of more than 20 average points during this period from the peak at the end of 2019 has dragged down his overall ODI batting average to 58.07. It is an overall drop of just 1.77 points, thanks to the excellent ODI stats before this prolonged drought.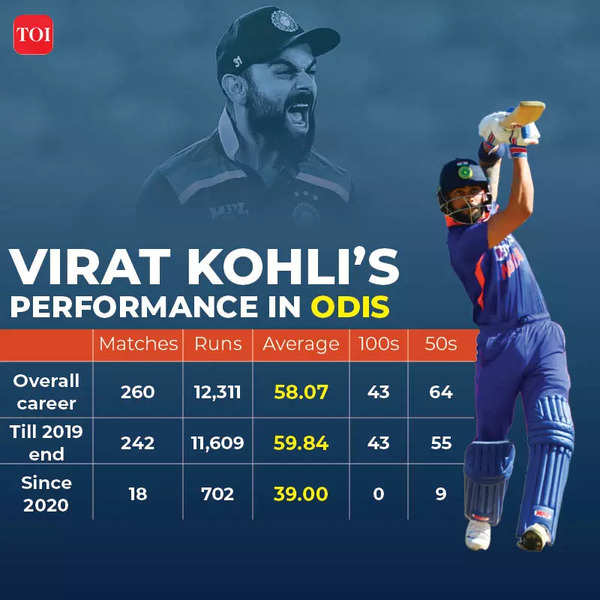 T20Is record still quite good
The one format in which his drop has been the least is the shortest format of the game – Twenty20 Internationals. And it is in this format that the critics want Kohli to be dropped from the Indian national team.
The former India skipper has scored his runs at an average of 42.18 since 2020, accumulating 675 runs in 24 T20Is while hitting six fifties. With a strike rate of 136, it is still a very good record in the format.
But such were his exploits with the bat before this period that it is a drop of more than 10 average points from the peak of 2633 runs in 75 matches at an average of 52.66, which included 24 fifties, at the end of 2019.
But the big dip only decreased his overall career record by just 2.5 average points, still keeping his batting average above 50 at 50.12.
Kohli has so far played 99 T20Is for the Men in Blue, scoring 3308 runs with the help of 30 fifties. And as his supporters and well wishers keep saying, he is just one big knock away from regaining his lost touch and form.