NEW DELHI:
Rafael Nadal
clinched his second Australian Open title earlier this year, 13 years after winning his first at the Rod Laver arena (2009). That made him the first men's player in history to win 21 Grand Slam titles, moving one ahead of Novak Djokovic.
Rafa is currently playing on what is hands down his favourite surface – clay and at his favourite tournament – the
French Open
, and will be itching to lay his hands on title number 14 at
Roland Garros
.
Nadal has overall won the French Open title 13 times – 2005, 2006, 2007, 2008, 2010, 2011, 2012, 2013, 2014, 2017, 2018, 2019, 2020 – in his career. He last lifted the trophy at Roland Garros in 2020 when he defeated Novak Djokovic 6–0, 6–2, 7–5 in the summit clash.
This year though it's Djokovic who is the defending champion and not Rafa.
Indian
tennis
player Purav Raja feels Nadal will be able to snatch the crown back from Djoko this year.
TimesofIndia.com
caught up with Purav to talk about the
French Open 2022
title favourites, Rafa, future of Indian tennis and more.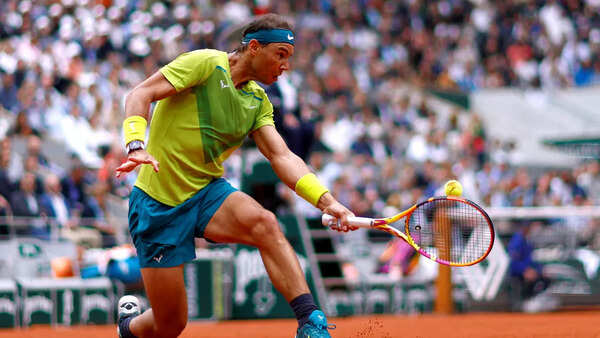 (Reuters Photo)
Who do you see as the favourite to win the men's singles title at the French Open this time and why?
I see Rafa still as the favourite to win the Roland Garros title this time. I see him as the favourite because he has won it and dominated the clay courts so many times. I am sure he is going to win it again. Rafa always rises to the occasion. Rafa at the French Open is a completely different kettle of fish. We all should understand that he is the overwhelming favourite on that surface and in that arena.
What does Nadal do to make the clay-court game look so easy?
I don't think he makes it look easy. He is just better at that surface than other people. He is the king of clay. His game style is so adaptive, he moves better than the rest of the world, and he has got an unbelievable dominant baseline game and forehand and backhand too. Rafa is the greatest player of all time. When we talk about Rafa, we just can't pinpoint a particular area of his game. He is perfect in everything that he does.
In comparison with other courts, why are clay courts considered to be more difficult to play on?
First, the movement is very different. The ball goes off a soft surface. The sliding is very different. The court is a lot slower. It is high in bouncing. The rallies tend to be longer. The match tends to be more physical. That's why clay courts are very different from other surfaces. We don't get the spin of the court as we do on the hard courts. It is just the soft surface. That's why it makes it very difficult for players to move on. They have to slide on the court. Rafa is too good at it. When the ball bounces higher, Rafa deals with it perfectly. The court is slower so that's why it makes the game more physical.
Djokovic was deported from Australia and missed out on a grand slam title there. Will he be itching to defend the French Open title to silence his critics more than anything?
Yes. I think he will be. It is great to see him back. He is a very close second favourite (to win the title). He is a very close contender. Rafa doesn't want to see too much of Novak in his side of the draw.
🗣️ "It's a good start" No.5 @RafaelNadal on his first round win this evening:#RolandGarros https://t.co/ndEwE4gPFb

— Roland-Garros (@rolandgarros) 1653336720000
After the big three – Djokovic, Nadal and Federer, which three other players can go on to dominate the tennis world and why?
Alcaraz, Tsitsipas and Medvedev. Medvedev has already shown his class in all the matches he has played.
Medvedev is the kind of player who speaks for himself. I think Tsitsipas' time is coming. His results are very consistent, especially on clay. I think we should look out for these three, after the big three names. Alcaraz is amazing too. He too speaks for himself. Anyone who has been watching tennis for the last few weeks knows how good a guy he is. This guy is phenomenal. I want him to win multiple grand slams.
Why hasn't an Indian been able to win a singles grand slam title yet?
It will take a huge huge effort and millions of dollars before we can dream of winning a grand slam title.
"It's a gift for me that I am able to compete here once again at Roland-Garros"Taking nothing for granted,… https://t.co/JcHYBf3UkZ

— Roland-Garros (@rolandgarros) 1653336002000
Do you see any Indian man or woman creating history by winning a men's singles or women's singles grand slam title in the future?
I don't see anyone because they are not born yet.
Federer hasn't played since Wimbledon last year due to a knee issue. Do you think it's time he should hang up his boots? Do you see him making a comeback and adding more grand slam titles to his records?
I would love to see him make a comeback and add more grand slams to his record. Every time we see Roger play now we think it could be his last match. It could be his last time in that arena. I think we should just enjoy the moment and take the pressure off of him. He is proven to be 'Mr. Tennis'. He is the most perfect tennis player anybody can play against. We have enjoyed his game and we are enjoying it. This is completely up to Roger when he wants to hang up his boots. He is probably the greatest athlete of all time.