The second ball of the second day of the Wanderers Test from Mohammed Shami leaped at Dean Elgar, who fended it safely to point. The last ball of the day from Keshav Maharaj spun and bounced at Cheteshwar Pujara, who edged it softly past slip for his seventh four and took India's lead to 58 with eight wickets standing.
What ensued in between those two deliveries was not only utterly absorbing cricket, but also the build-up of several narratives that are hurtling towards one grand denouement at the Bullring. The headline story of the day was, of course, how Shardul Thakur transformed his golden arm into a goldmine extracting one precious wicket after another. Before Thakur ripped through the South African batting line-up, the morning had been about the craft and threat of Shami and Jasprit Bumrah pitted against the grit of Elgar and the elegant promise of Keegan Petersen.
STUMPS on Day 2 of the 2nd Test.#TeamIndia 202 & 85/2, lead South Africa (229) by 58 runs.

Scorecard – https://t.co/qcQcowgFq2 #SAvIND pic.twitter.com/OwcK1xZ7YW

— BCCI (@BCCI) January 4, 2022
It was also about a stand-in captain trying to limit the opposition without the cushion of too many runs to defend and with his third seamer reduced to bowling wicket-to-wicket medium pace. Mohammed Siraj was unable to summon his familiar frenetic energy after having done his hamstring on the second evening, and operated in the late 120s to early 130s, about half the bowler he usually is.
Skipper KL Rahul also had the punchy counter-attack of Temba Bavuma to contend with, and the resoluteness down the order of Marco Jansen and Keshav Maharaj, who earned a useful first-innings lead of 27 for South Africa.
India had just wiped out the deficit and started to build a lead of their own when they lost both their in-form openers Rahul and Mayank Agarwal.
Cheteshwar Pujara and Ajinkya Rahane came together in the middle now. Fighting to keep their team in the match, fighting to give their bowlers a chance to go for India's first series win in South Africa. And of course, fighting to keep their spots in the team.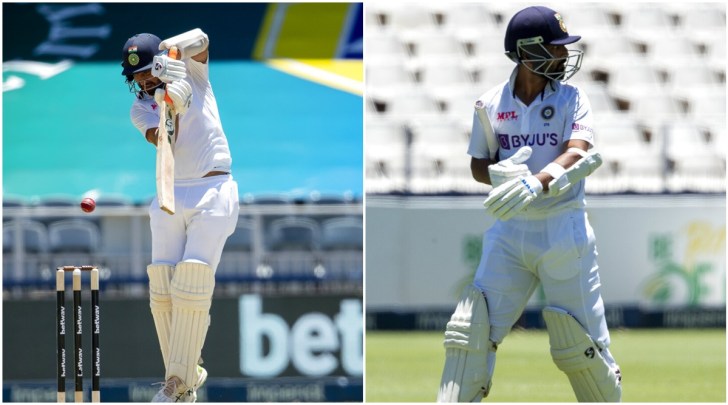 Pujara and Rahane remained unbeaten when play was called off on Day 2. (AP)
As they went about trying to accomplish all of these weighty tasks, it was hard to tell at times which was which, as if the styles had been switched. Rahane on the hop, taking snorters on the top glove, fending them past short leg, trying to play straight. Pujara hooking and driving as if this was a chase to be completed by stumps. Looking to dislodge the veterans short on runs, South Africa overpitched too often, and Pujara, in particular, and of all batsmen, did not hold back even once.
In the 8.2 overs the pair was at the crease until stumps, India added 41 runs, and Pujara strode back on 35 off 42, at a very uncharacteristic strike-rate of 83. Unlike Pujara and Rahane, the South African pair of the morning had resisted true to style. Elgar played and missed and ducked and weaved, shrugging matter-of-factly after surviving searching examinations from Shami and Bumrah, as if to suggest it was all an occupational hazard. Petersen, meanwhile, showed why all the fuss about him is justified. On a somewhat up-and-down surface that had quickened up further, he still had time to get behind the line. He had the balance to unfurl picture-perfect cover drives and square drives. He was alert and aware enough to move away from the line of bouncers directed at his body. Like Rahul, deliveries that had and would trouble others didn't bother him, as he played so late without committing early.
With luck not on their side, Shami and Bumrah kept running in. Bumrah would set up Petersen with four or five wide ones and slip in the nip backer, only to watch it go inches over the stumps. Shami, seam perpendicular to mother earth as always, would move it both ways from the same spot but miss the edges of the bat.
Shardul Thakur picks up 7 wickets as South Africa are all out for 229 runs. #TeamIndia's second innings underway.

Scorecard – https://t.co/qcQcovZ41s #SAvIND pic.twitter.com/Tqiz8pFKzd

— BCCI (@BCCI) January 4, 2022
Like Shami, even Bumrah had now started to hold his face in his hands in disappointment and just change direction in his follow-through to start moving back to his mark. There is little else you can do when it is not going your way when it should. All Shami and Bumrah would get was a couple of strikes at the tail after Thakur had reaped his golden harvest.
That South Africa did not get too far in front, and that India have hacked their way to 85/2 in just 20 overs means the hosts will get increasingly edgier if they don't strike early on the third morning. Pujara and Rahane, led by Rahul junior and guided by Rahul senior, looking to save their careers and set up a historic first for India. Will it all come together in place at a ground called Wanderers?