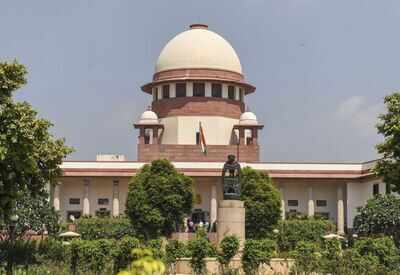 NEW DELHI: Supreme Court judge, Justice Indira Banerjee, on Friday recused herself from hearing a plea pertaining to alleged post-poll violence in West Bengal.
At the outset when a petition filed by Biswajit Sarkar, brother of a deceased Bengal BJP worker, was called before a bench of Justices Banerjee and M R Shah, she said she could not hear the case, without specifying the reason. The court thereafter passed the order for listing of the case before an appropriate bench of "which Her Ladyship (Hon'ble Mrs. Justice Indira Banerjee) is not a member".
Sarker in his petition sought a CBI probe into murder of his brother Abhijit. He alleged that a TMC mob had entered Abhijit's house, dragged him out and killed him in front of his mother, who was molested, and other family members.
Second petitioner Swarnalata is the widow of another booth-level BJP worker Haran Adhikari. Her husband was allegedly attacked with bricks, sticks, spades and shovels at his home and killed in the presence of his 80-year-old father, who was also kicked, and minor son.
The petitioners sought a CBI investigation into the cases and also provided the Supreme Court with a list of 16 other BJP workers who were allegedly killed during the "orchestrated" post-poll violence that gripped several parts of the state after TMC won the elections and formed the government for the third consecutive time in the state.
FacebookTwitterLinkedinEMail