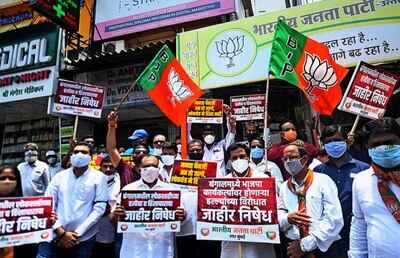 BJP workers protest in Mumbai against post-poll violence in Bengal
KOLKATA: The Calcutta high court on Friday requested the chairperson of the National Human Rights Commission (NHRC) to set up a committee to examine all allegations of post-poll violence in Bengal, observing that the state hadn't taken "concrete steps" to address the 3,243 complaints lodged till June 3.
A five-judge bench, led by acting Chief Justice Rajesh Bindal, put it on record that the state, from the very beginning, had been denying everything, adding, "But the facts placed on record by the member secretary of the West Bengal State Legal Services Authority on June 3, are different."
"In a case where the allegation is life and property in danger on account of post-poll violence, the state can't be allowed to proceed in the manner it likes," the court observed, taking nature of the complaints. "It is the duty of the state to inspire confidence among residents."
The bench also directed the state government to provide logistics support to the NHRC committee and issued a stern warning: any obstructions might entail action under contempt of court, among other provisions. "The state shall ensure that there is no obstruction of any kind in this process," the court held.
The court also took exception to the procedure members of the West Bengal State Legal Services Authority (WBSLSA) followed to address the complaints. The bench, referring to the video conference the members held with the alleged victims, observed: "In our view that was not the idea. It was not a normal meeting. Rather, the officers were to see the ground realities and report to the court."
The bench said it wanted one representative each from the West Bengal State Human Rights Commission and the West Bengal State Legal Services Authority in the NHRC committee.
The next date of hearing has been fixed on June 30.
FacebookTwitterLinkedinEMail