New Delhi: Grief, fear and anger has gripped the nation amid the unprecedented surge in novel coronavirus cases but it is the doctors and members of the medical fraternity who are witnessing the harrowing experience of their lives while attending to the thousands of patients across the country gasping for breath in the midst of a deadly second Covid-19 wave.
Fighting the pandemic fatigue has only become crucial but a herculean task for the members of the medical fraternity as they risk their own lives treating the patients.
Oxygen shortage in various hospitals has further complicated stuff and the recent deaths of Covid patients, including the HOD of gastroenterology department, at Delhi's Batra Hospital suffices the same.
Each day there are heartbreaking stories coming from the national capital and today came in of a doctor dying by suicide on Friday. Prof Dr Ravi Wankhedkar, former national president of the Indian Medical Association, tweeted to inform that Dr Vivek Rai, Resident Doctor, Max Hospital, Saket, Delhi, who was dealing with the ICU patients everyday died by suicide.
"COVID WARRIOR dies by Suicide Dr Vivek Rai, Resident dr of DNB 1st year at Max Hospital Saket Delhi. He Was doing covid duty since 1 month and was dealing with icu pts every day and was providing cpr and ACLS for about 7 to 8 patients per day in which not many were surviving," he posted on the social media.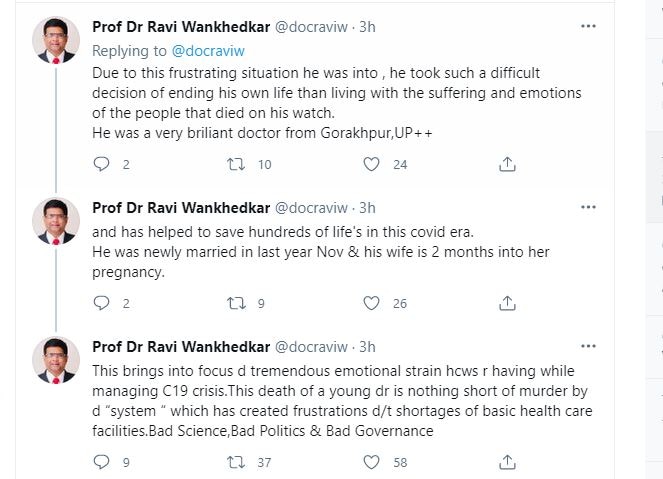 READ: Oxygen Shortage: 8 Covid-19 Patients Die At Delhi's Batra Hospital Due To Lack Of Supply For Over 1 Hour
News agency ANI also reported on Twitter about the doctor's death. "Max Hospital, Saket doctor died allegedly by suicide at his residence in Malviya Nagar on 30th April. A thorough search of room was made and a suicide notice was found. No reason for suicide was mentioned in the suicide note. Further probe continues," DCP South was quoted as saying.
Subhasree Ray, Corporate Dietitian with Reliance Industries Limited (RIL) and a PhD scholar of Ketogenic Diet, also shared a gut-wrenching post on social media that Dr Vivek "ended his own life as he was seeing at least 5 to 7 Covid-19 deaths every day while managing the ICU".
"Heartbreaking: Just heard, Dr. Vivek, Max Hospital, Delhi ended his own life as he was seeing at least 5 to 7 #COVID19 deaths every day while managing the ICU. A safe space to express our emotions out is still at bay!" she tweeted.
Ray appealed to the journalists stating the mental health of Health Care Workers (HCWs) should not go unnoticed.
"I would request journalists to make a story on this with more details. The mental health of HCWs shouldn't go unnoticed," she posted on the micro-blogging platform.
Expressing grave concern over the present state of affairs in the country courtesy the pandemic, Ray also offered her advice to those who have isolated themselves at home after testing positive for the virus.
"If you are #COVID19 positive & home isolated: – Preferably wear 2 masks, family members too – Wash your utensils & clothes – Check your body temp. 2 to 4 times a day – Monitor O2 level 3 to 4 times a day with a pulse oximeter – If O2 drops below 92% seek hospital care," Ray tweeted.
READ: First Consignment Of Sputnik V Vaccine Doses From Russia Arrives In Hyderabad
"- Lie down on your chest/stomach with the back facing the ceiling (Prone position) – If high fever persists for >5 days consult your doctor – Ventilate your home – Drink 2 to 4 liters of water a day – Balanced home-cooked diet – Rest as much as possible," she said in another post.
Check out below Health Tools-
Calculate Your Body Mass Index ( BMI )