Exit Poll Results 2021: The 2021 Tamil Nadu assembly election is certainly an important one as this is the first assembly poll to happen without the towering presence of titans M Karunanidhi and J Jayalalithaa. The southern state, which went for polling in a single phase on April 6th, is keenly waiting for the final results to be declared on May 2 as the results this time will reveal if the ruling AIADMK can stand on its own in the absence of "Amma".
Ahead of the results for the 234-member Tamil Nadu legislative assembly, ABP News along with CVoter conducted an Exit poll to understand the mood of the state.
ALSO READ | Tamil Nadu ABP C-Voter Exit Poll 2021: Stalin's DMK Likely To Sweep Election With Clear Majority
As per the data collected, the state will witness the return of DMK-Congress alliance to power with a clear majority. The survey data shows that a combination of 10 year anti-incumbency and absence of a charismatic successor to J Jayalalitha is expected to lead to electoral setback for the ruling AIADMK.
As per the exit poll results, Stalin-led DMK is emerging victorious with a clear majority bagging the seats in the range of 160-172. The incumbent AIADMK- led alliance on the other hand, is expected to be restricted to 58 to 70 seats in the state.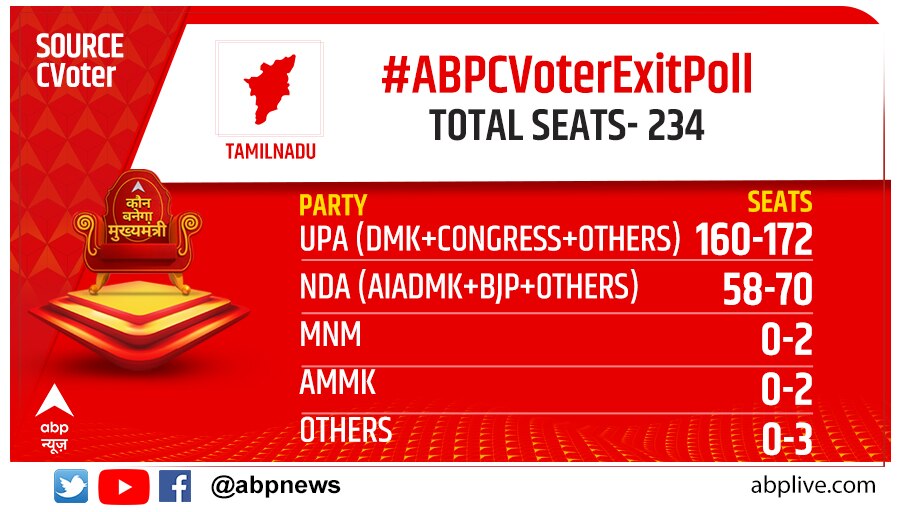 Translated to vote share, the ABP-CVoter Exit Polls has revealed that Stalin's DMK is the first choice for people in Tamil Nadu. According to the survey data, the vote share of DMK and alliance partners will witness a jump of 7.9% from 38.8% in 2016 to 46.7% in 2021, while the vote share of AIADMK – led coalition will plummet by 8.7% from 43.7% in 2016 to 35% in 2021. Other outfits will continue to remain marginal political players in the state.
ALSO READ | Mamata To Return In Bengal, Tight Contest In Assam, BJP Rout In Kerala: Exit Polls
It is yet to be seen if ruling AIADMK, allied with BJP, will manage to secure a third term in Tamil Nadu assembly or Karunanidhi's son Stalin will inherit the wide following his father. The newly formed Makkal Needhi Maiam of Kamal Haasan, which contested the polls in alliance with some regional parties, has also emerged as a challenger but may remain marginal political player in the state.