Sensex on Tuesday closed 414 points lower at 33,956 after snapping intra-day gains of almost 450 points as concerns of rising Covid-19 cases impacted the sentiments.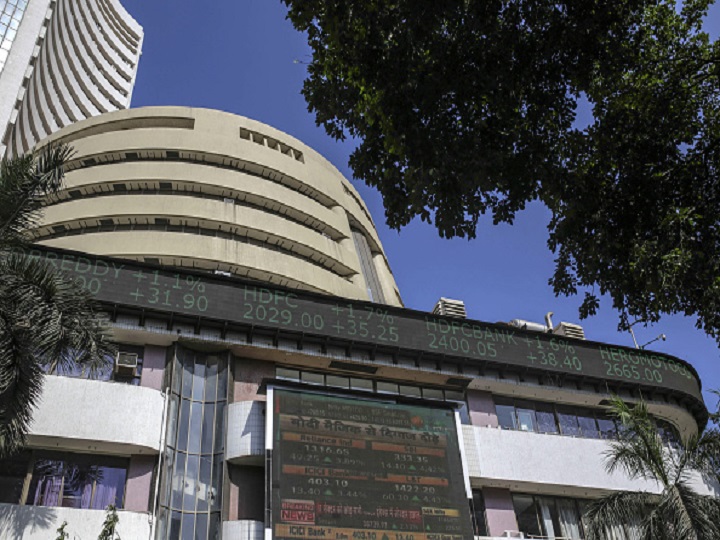 New Delhi:
Domestic markets gained marginally in the opening session on Wednesday supported by IndusInd Bank and Kotak Mahindra Bank which remained the top Sensex gainers while Tata Steel and Hero MotoCorp slipped 2 per cent each to fall under top laggards.
Also Read: 

Amazon CEO Jeff Bezos Blasts Racist Online Buyer, Says 'Happy' To Lose This Kind Of Customer
The 30-stock barometer stock Sensex rose 202 points or 0.60 per cent at 10.28 AM 34,158.76 while the broader Nifty climbed 50.35 to touch 10,097.00 level.
IndusInd Bank rose 3.09 per cent and Kotak Mahindra Bank surged 1.32 per cent.
Shares of Hero MotoCorp slipped 1.8 per cent to ₹2,343.00 on the BSE as the auto company reported weak numbers for the March quarter.
Sensex on Tuesday closed 414 points lower at 33,956 after snapping intra-day gains of almost 450 points. The Nifty closed down 1.2 per cent at 10,046. Also Read: World Bank Predicts Worst Recession Since World War II, Global Economy To Shrink By 5.2%
During the early sessions, both indexes rose more than 1 per cent each as the government paved way for shopping malls and restaurants to reopen after the stringent lockdown, even as the number of new cases climbed steeply.
Around 24 companies including Shriram Transport Finance, Tanla Solutions, Century Textiles will announce their March quarter numbers.
Meanwhile, Asian shares continued with the 10th day consecutive gains, but the sentiments were impacted as worries over global recovery pick up amid the expected US Federal Reserve meeting.
On Tuesday, the Dow Jones Industrial Average fell 300.14 points, or 1.09 per cent, to 27,272.30, snapping a six-day winning streak. The S&P 500 was down 25.21 points, or 0.78 per cent, to 3,207.18, Xinhua news agency reported.
The Nasdaq Composite Index rose 29.01 points, or 0.29 per cent, to close at 9,953.75. The index rallied to a record high earlier in the session, briefly breaking above the 10,000-mark for the first time, fueled by strong gains in major tech shares.
Shares of US tech giants Netflix, Apple, Facebook, and Amazon all finished up more than 3 per cent.
Nine of the 11 primary S&P 500 sectors ended lower, with energy and financials down 3.31 and 2.62 per cent, respectively, leading the laggards. Communication services and technology, however, both climbed more than 0.4 per cent.
Oil retreated toward $38 a barrel after a US industry report signalled a surprise jump in crude inventories, raising fresh concerns about excess supply.
Also Watch | COVID-19 cases in India surge past 2 lakh 76 thousand

(With inputs from IANS)