NEW DELHI: Basketball player Amritpal Singh, who holds the distinction of being the first and only Indian to play in Australia's National Basketball League (NBL), has been suspended by the National Anti-Doping Agency (NADA) after traces of the banned substance terbutaline were found in his urine sample during an out-of-competition testing in Bengaluru.
Amritpal, who has been an integral part of the national team since his India debut in 2011, has accepted the provisional suspension effective May 19 last month after waiving off his right for 'B' sample testing, TOI has learnt. The hoopster's sample was collected on February 16 this year in Bengaluru during the national team's preparatory camp for the FIBA 3×3 Tokyo Olympic qualifiers, but the test report from Qatar's Doha laboratory arrived only in May.
Amritpal was among the three players – the other two being Amjyot Singh and Arshpreet Bhullar – who were involved in a roadside scuffle in Bengaluru last November. The trio was detained by the police and even had to spend a few hours in lockup.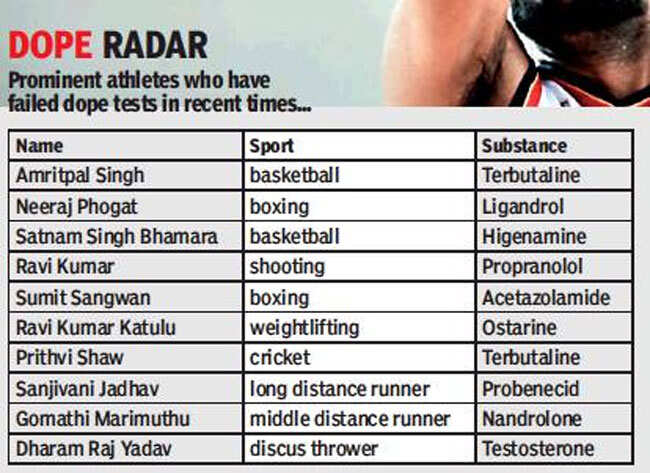 Meanwhile, international medal-winning woman boxer, Neeraj Phogat (57kg) – who was among the probables for the Tokyo Games – has been banned by NADA's disciplinary panel for a maximum period of four years. The Haryana girl was found guilty of taking performance enhancing drugs. Neeraj's ban period will start from December 2, 2019, the day she was provisionally suspended by the NADA after testing positive for ligandrol and other anabolic steroids. The boxer had won the gold medal at last year's India Open in Guwahati. She also won bronze at the Strandja Memorial tournament in Bulgaria.
In shooting, another international, Sharvan Kumar (men's 10m air pistol), who had shot to fame after scores higher than reigning CWG and Asian Games champion Saurabh Chaudhary's world record – during the national selection trials in July last year – has been provisionally suspended after returning positive for banned substance propranolol, a beta blocker.
Sharvan, a junior and youth national champion who represented India at the Tokyo Olympics qualifier, the 14th Asian Championship in Doha, was tested on Feb 5 this year during the senior national selection trials in Thiruvananthapuram. He accepted the provisional suspension on May 22. Notably, Amritpal, Neeraj and Sharvan's decisions haven't been made official by NADA.