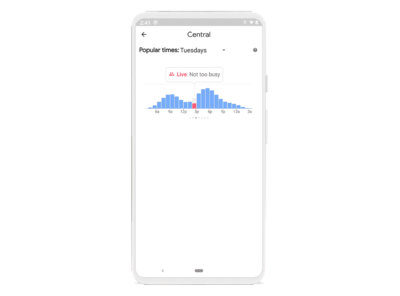 Google has rolled out a new feature to help you avoid crowded places and maintain social distancing in public transport as cities lift lockdown caused due to the coronavirus pandemic. The update is available for users in India for both Android and iOS and Google claims that this information will "help you easily find important information if you need to venture out, whether it's by car or public transportation."
Google is using its "crowdedness predictions" model that was rolled out earlier to help users understand whether a particular place or public transport will be crowded or not and accordingly make plans to avoid the rush. Users can also update how crowded a particular bus line or train is at a certain time.
Here's how to get information about crowdedness:
-Tap to see the Directions of a place on Google Maps
-Tap through to see the Transit Details
-Scroll down to find crowdedness predictions
-You can also contribute your own crowdedness experience
Google will also provide you with data as to how crowded a station is usually and you can also get live data showing how busy it is right now compared to its usual level of activity. Here's ho to know this information:
-Search for a station in Google Maps
-Tap on the station on the map to see the departure board and "busyness data".
Google claims to be relying on anonymized data for these features. "These capabilities are powered by aggregated and anonymized data from users who have opted in to Google Location History, a Google account-level setting that is off by default. To protect privacy, these insights are only surfaced when we have sufficient data to meet privacy thresholds," said Google in its official blog post.