In this file photo, migrant workers walk along the Maharashtra-Gujarat border to return home. (Express photo by Amit Chakravarty)
Coronavirus (Covid-19):  Declining to entertain a public interest litigation seeking directions that District Magistrates identify, shelter, feed and provide free transport to stranded migrant workers or those on the move, the Supreme Court Friday said it was for the states to take action.
Justices L Nageswara Rao, S K Kaul and B R Gavai wondered how the court could stop migrants from walking. "How can anybody stop this when they sleep on railway tracks?" Justice Kaul asked. Justice Rao said, "There are people walking and not stopping. How can we stop it?"
Petitioner and lawyer Alakh Alok Srivastava referred to the death of 16 migrant workers in Maharashtra on May 8 — headed to their villages on foot, they were run over by a train while sleeping on rail tracks. He also sought to draw the court's attention to the death of eight workers in a road accident in Guna.
Justice Kaul told the petitioner "every advocate reads incidents in the paper and becomes knowledgeable about every subject. Your knowledge is totally based on newspaper clippings and then, under Article 32, you want this court to decide. Let the states decide."
Srivastava said he was only seeking implementation of government guidelines. The bench then asked him "will you go and implement government directives? We will give you a special pass".
Turning to Solicitor General Tushar Mehta, Justice Rao asked the government what it was doing about this.
Mehta, who was appearing for the Centre, said the government had started providing inter-state transport for migrant workers, but some people were not waiting for their turn and had started walking.
He said subject to the agreement between states, everybody will get a chance to travel. "We can only request that people should not walk. Using force to stop them would be counter-productive," he said.
Srivastava, in his petition, pointed out that the Centre, responding to an earlier plea he had filed, made a statement before the court on March 31 that as of 11 am that day, no migrant labourer was walking on foot to reach home.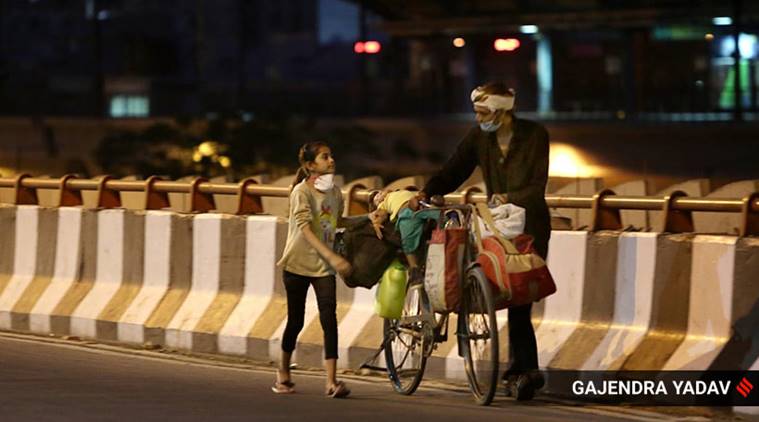 4 am, Thursday: A migrant family on their way home to UP, outside the Mayur Vihar Metro Station in Delhi. (Express Photo by Gajendra Yadav)
The Solicitor General, Srivastava said, had told the court that his suggestions "will be examined and appropriate action will be taken" but his suggestion to direct DMs to provide shelter and transport to the migrants, both stranded and those on the move, had not been considered.
Meanwhile, hearing another petition which contended that the nodal officer appointed by Uttar Pradesh to bring back migrant workers belonging to the state from Maharashtra, the Supreme Court asked the two states to file an affidavit on steps being taken to provide nodal officers to help migrants travel from Mumbai to their native places.
📣 The Indian Express is now on Telegram. Click here to join our channel (@indianexpress) and stay updated with the latest headlines
For all the latest India News, download Indian Express App.
© IE Online Media Services Pvt Ltd