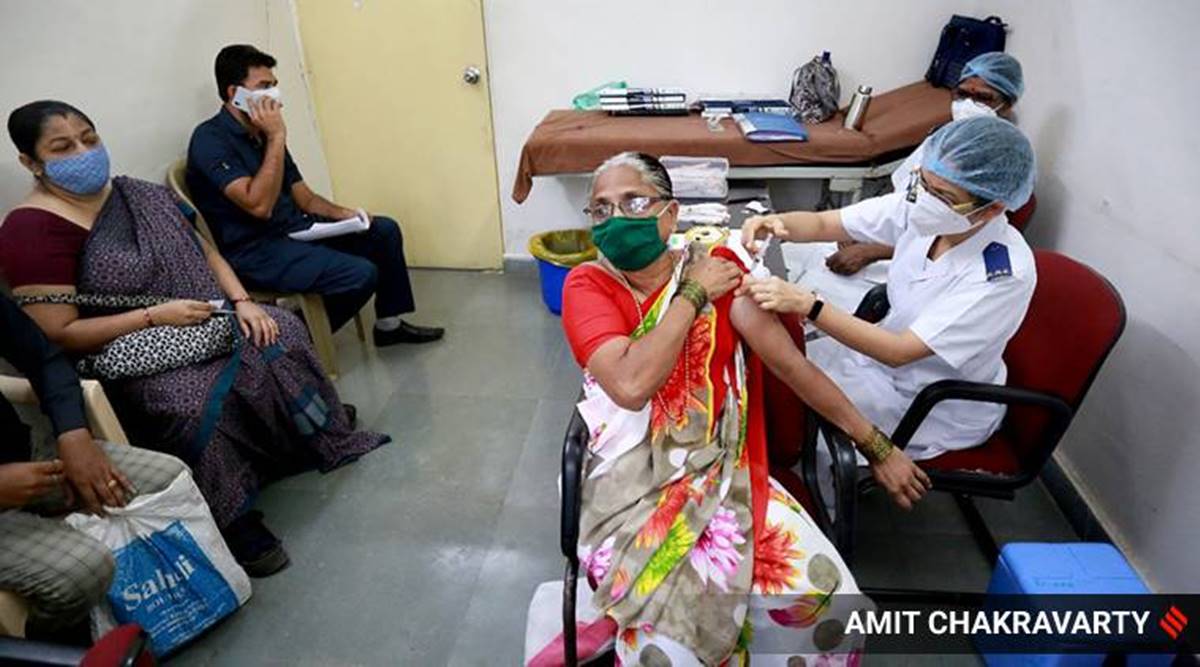 Coronavirus India Live Updates: A beneficiary being vaccinated at the NMMC hospital in Navi Mumbai on Saturday.
(Express Photo by Amit Chakravarty)
Coronavirus India Live Updates: India reported 1,00,636 new Covid-19 cases and 2,427 deaths on Monday, according to data from the Union Health Ministry. Part of it has to do with low testing on Sunday. Only 15.87 lakh samples were tested on Sunday, compared to an average of more than 20 lakh in the last week.
Tamil Nadu, the top contributor, reported 20,421 cases. Only four states had a case count of more than 10,000. On the fatalities front, about 1,600 of the total deaths in the last 24 hours has been reported from just four states – Maharashtra, Tamil Nadu, Karnataka and Kerala
The total number of coronavirus cases has now reached 2,89,09,975 while the death toll rose to 3,49,186. There are 14,01,609 active cases in the country while as many as 2,71,59,180 people have recovered from the disease. The ministry said a total of 23,27,86,482 people have been vaccinated so far
The Union government is considering reverting to centralised procurement after more and more states asked the Centre to step in as they drew a blank in global tenders to purchase Covid-19 vaccines. On May 1, the Centre expanded vaccine coverage to the 18-44 age group, opened the market, introduced differential pricing and public-private split in supplies. "If all states want the Union government to centrally procure, we will discuss it. We are willing to consider such a request," a top government source told The Indian Express Sunday.
Meanwhile, amid the rapidly improving coronavirus situation, the 7-day average of death numbers has come down below 3,000 for the first time in six weeks. The average death count has been showing a steady decline after reaching a peak of nearly 4,200 on May 21. On Saturday, this average came down to 2,970. There is usually a two-to-three-week lag between the trajectory of new cases and deaths. The daily case count had peaked on May 6 at 4.14 lakh, after which the numbers have been coming down steadily.
Lockdown restrictions have been eased further in Delhi, where markets will open on an odd-even basis from today. Private offices are also reopening and the Delhi Metro will resume operations with 50 per cent capacity. And bus services are set to resume in Mumbai.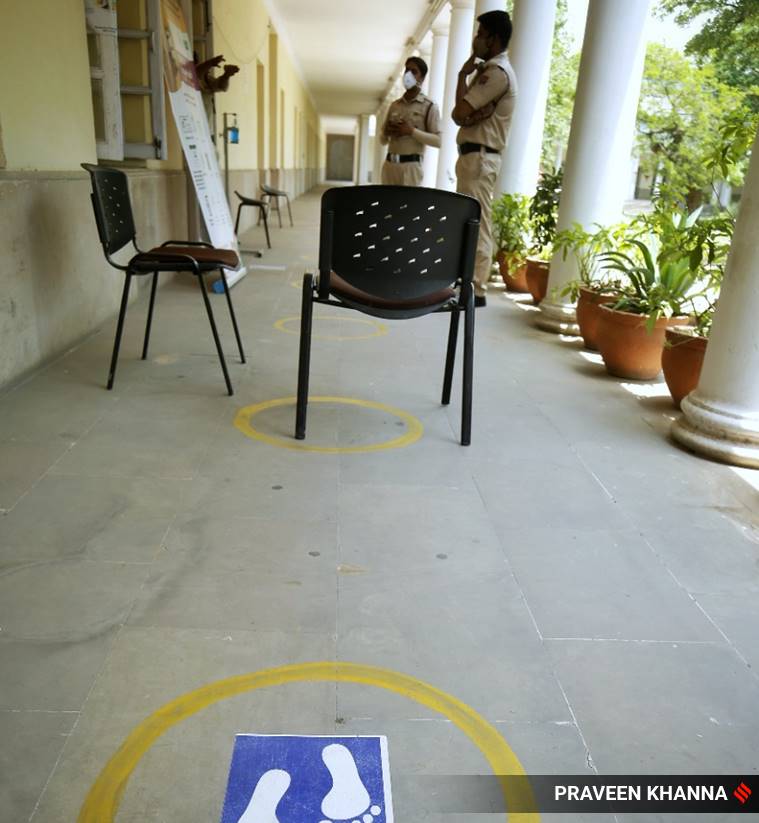 At a Covid-19 vaccination centre in Delhi. (Express photo by Praveen Khanna)
Coronavirus India Live Updates:
As Covid numbers continued to remain at elevated levels in the fortnight ended May 21 and the dependence upon cash rose amid the uncertainty surrounding medical emergency and for general household expenditure, currency with public rose to a new high of Rs 28,62,466 crore.
According to the data released by the Reserve Bank of India (RBI) on Friday, currency with public rose by Rs 23,145 crore in the fortnight ended May 21. In the two-month period between March 27 and May 21, as cases rose and stayed at elevated levels, cash holdings with public jumped over Rs 1 lakh crore. As on March 26, 2021, currency with public amounted to Rs 27,57,750 crore.
May witnessed spike in cash holdings as fresh cases and mortality jumped to record highs.