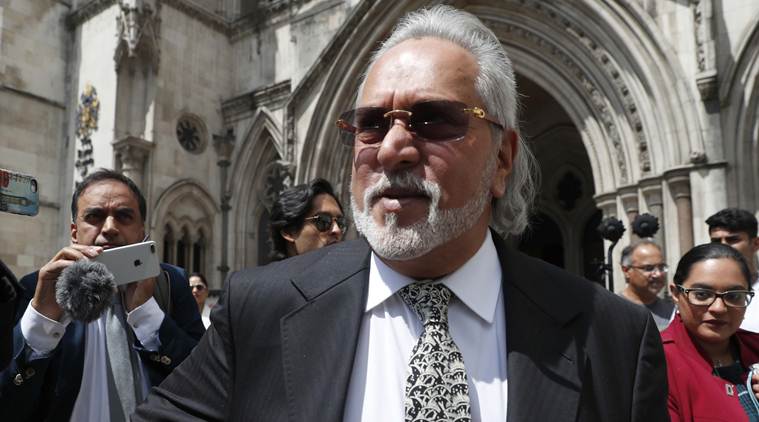 The UK Home Office is now expected to formally certify the court order for Mallya to be extradited to India within 28 days. (File Photo: AP/PTI)
Fugitive liquor baron Vijay Mallya Thursday lost his application to appeal against extradition proceedings in the UK Supreme Court, setting off the 28-day "required period" for the 64-year-old businessman to be extradited to India on charges of fraud and money laundering related to unrecovered loans to his now-defunct Kingfisher Airlines.
On April 20, the London High Court had dismissed Mallya's appeal against a Westminster Magistrates' Court extradition order certified by the UK Home Secretary. The embattled businessman had been given 14 days to seek permission to move the Supreme Court, which he did on May 4, and his application was rejected Thursday.
The latest decision, referred to as a "pronouncement", means that under the India-UK Extradition Treaty, the UK Home Office is now expected to formally certify the court order for Mallya to be extradited to India within 28 days.
So, what happens now?
The latest ruling will now go back for re-certification and the process of extradition should be triggered within 28 days. His case will go to Priti Patel, the UK secretary of state, Home Department for a final decision on extradition. If Patel gives her consent, Mallya can be extradited to India.
Mallya also has the option of moving the European Court of Human Rights (ECHR) against his extradition, on the basis that he will not receive a fair trial and will be detained in conditions that breach Article 3 of the European Convention on Human Rights, to which the UK is a signatory.
Previously, among the points Mallya had raised in contesting his extradition was that the Arthur Road jail in Mumbai, where he would be lodged, "did not receive natural light".
Why was his appeal rejected?
The UK Crown Prosecution Service (CPS) said Mallya's appeal was rejected on all three counts — hearing oral submissions, grant a certificate on the questions as drafted, and grant permission to appeal to the Supreme Court.
The leave to appeal to the Supreme Court is on a point of law of general public importance – to contend that a point of law of general public importance has been overlooked by both the magistrate court and the high court – which, according to experts, is a 'very high threshold not often met'.
"The court having signified its intention to refuse to certify a point of law of general public importance with a view to an appeal to the Supreme Court," noted the pronouncement by Lord Justice Stephen Irwin and Justice Elisabeth Laing, the two-member bench at the Royal Courts of Justice in London presiding over the appeal.
"We have held there is a prima facie case both of misrepresentation and of conspiracy, and thus there is also a prima facie case of money laundering," Justices Irwin and Laing had ruled last month. The High Court verdict in April upheld the 2018 ruling by Chief Magistrate Emma Arbuthnot at the end of a year-long extradition trial in December 2018 that the former Kingfisher Airlines boss had a case to answer in the Indian courts.
What are the charges?
Vijay Mallya and his now defunct firm, Kingfisher Airlines Ltd, have come under the scanner of the Enforcement Directorate (ED), Central Bureau of Investigation (CBI), Serious Fraud Investigation Office (SFIO) and the Securities and Exchange Board of India (Sebi) for loan defaults of over Rs 10,000 crore to a consortium of Indian banks led by the State Bank of India (SBI).
While Mallya is facing charges of cheating, criminal conspiracy, money laundering and diversion of loan funds, a few of his companies including Kingfisher Airlines are facing charges of violations of the Companies Act 2013 and Sebi norms. Mallya, has denied any wrongdoing.
While the ED has charged Mallya under sections 3 and 4 of the Prevention of Money Laundering Act (PMLA), the CBI has charged Mallya under section 120B (criminal conspiracy), 420 (cheating) and under sections 13 (1) (d) and 13 (2) of the Prevention of Corruption Act. The ED has alleged that the now defunct Kingfisher Airlines has "diverted" at least Rs 3,547 crore of the loan granted to the airlines.
What has been Mallya's response to these charges?
Mallya has denied any wrongdoing. However, since the beginning of the extradition case hearing, Mallya has claimed that he is prepared to repay the loans. Earlier in the day, Mallya asked the government to accept his offer to repay 100 per cent of his loan dues and close case against him.
While congratulating the Indian government over the Rs 20 lakh crore economic package, Mallya lamented that his repeated offers to repay his dues have been ignored.
Extradition treaty between UK and India
The Extradition Treaty between India and the UK was signed in 1992, and came in force in November 1993. So far, only two major extraditions have taken place under this Treaty — Samirbhai Vinubhai Patel, sent back to India in 2016 to face trial for involvement in the post-Godhra riots of 2002, and bookie Sanjeev Chawla in February this year, for the 2000 match-fixing case involving late South African captain Hansie Cronje. Of these, Patel had not opposed his extradition.
📣 The Indian Express is now on Telegram. Click here to join our channel (@indianexpress) and stay updated with the latest headlines
For all the latest India News, download Indian Express App.